Con Phung handicraft village in the Mekong Delta Province of Ben Tre, well-known for products made from coconut, is struggling to remain afloat with demand for its products falling relentlessly.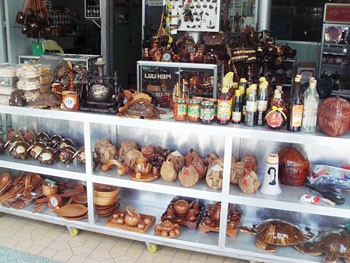 Visitors who visit Con Phung handicraft village to watch artisans and buy the products too are no longer coming in such large number as before.
Tourists who visited the village to watch the artisans and buy the products too are no longer coming in such large numbers as before.

Mr.Hieu, owner of coconut handicraft firm Chin Hieu, who has been in the business for more than 13 years, admitted the golden period for these goods has passed.
Ms. Phuong, the owner of another workshop, said since raw material prices have increased across the board, cost cutting and price increases are required to remain in business.
Though there are 12 handicraft firms operating on the Con Phung Island, the place seems deserted with many dusty machines lying idle under the canopy of coconut trees in the late-evening breeze.
Need Help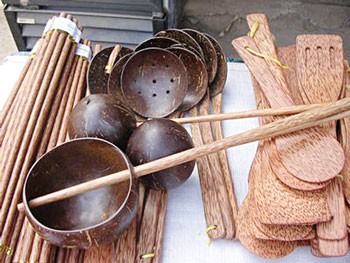 Some handicraft products are made of coconut.
To make handicrafts from coconuts, like a tea set, bicycle, spoon, bowl, chopsticks and decorated furniture, workers must have skill, sharp eyes, creative mind, and a passion for their craft. But typically, a product sells for just VND5,000 to 30,000.
The beleaguered firms are looking for new markets for their products and waiting for support from local authorities, who have held many seminars to discuss the issue.
Most manufacturers and workers remain in the business out of love for their craft.
Ms. Ngoc Vi, a young worker at Ms. Phuong's workshop, typifies this love: "I am charmed by the beauty of coconut handicrafts. I wish I can earn enough money to enter a fine arts university."
Minh Cuong, who works for Minh Quang, said: "I love my work and am proud of the traditional craft of my homeland. Although we face many difficulties now, we will try to preserve this craft."



A coconut festival is slated to be held in Ben Tre in January to mark the anniversary of the Dong Khoi (mass uprising) of 1960.
The festival will feature cultural activities and a charity auction. The event offers a chance to promote the province's tourism and economy.
Coconut trees are a symbol of Ben Tre, which has nearly 46,000 hectares of coconut groves. There are more than 100 coconut candy making units that employ thousands of local people.
Ben Tre's coconut candy is sold throughout the country and exported to China, Laos, Cambodia, Mongolia, Europe, and America.
The province is also famous for many other fruits.
The opening ceremony of the festival is scheduled for Jan. 17 to coincide with the opening of the Rach Mieu Bridge between Ben Tre and Tien Giang Provinces.