More than 140 women who were members of the legendary "Long-hair army," gathered in Ben Tre Province on January 16 to celebrate the 50th anniversary of the Ben Tre Uprising (January 17).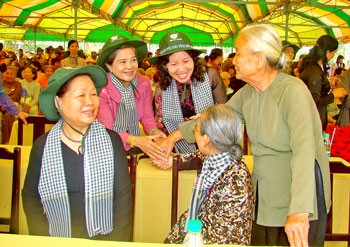 Female soldiers of the legendary "Long hair army" are so happy to meet with each other and speak of memories from the old days.
The female former soldiers, from 34 cities and provinces from the central province of Quang Tri to the Mekong Delta province of Ca Mau, are now elderly but still vividly recall the Uprising.
Many were moved to tears during the reunion as they spoke of memories from decades past.
Ms. Le Thi Minh Duc, who commanded a political movement in 1960 against foreign invaders, said that she and her unit comrades along with Phuoc Hiep Ward's Mobilization Committee, called on more than 10,000 people to denounce crimes of the enemy and pressured enemy troops to withdraw from the province.
Soldier Vo Thi Dan said she refused to speak after she was arrested by the enemy while pregnant with her first child. Ms. Dan then gave birth in prison in 1969.
The courage of the female fighters was remarkable. Each soldier had their own personal story of bravery and recalled acts of devotion toward their country.
Ms. Nguyen Thi Doi had her scalp peeled off by enemy forces, while Ms. Nguyen Thi Cai was arrested and tortured more than 20 times but never gave up information that could harm the objectives of the Uprising. Ms. Bui Thi Mui, who is blind, continued to sing timeless revolutionary songs with fervor.
The anniversary ceremony was held at the Heroine Nguyen Thi Dinh commemorative area in Luong Hoa Commune, Giong Trom District, Ben Tre Province by the Vietnamese Women's Association.
Also on the occasion, a concert titled "Dong Khoi (Mass Uprising) Memory" was organized at the Ho Chi Minh City Opera House on January 19.
Under conductor Tran Vuong Thach, the musical performance introduced audiences to time-honored revolutionary songs praising the heroic Dong Khoi movement.