War veterans and relatives of martyrs will receive higher pensions and benefits beginning next month, according to a new government decree.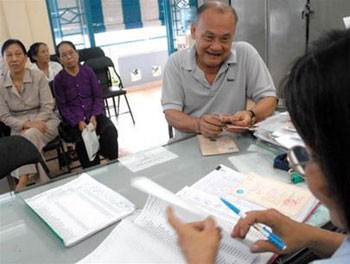 Veterans receive monthly pensions at a ward people's committee in Ha Noi
The basic monthly pension will increase 15 percent to VND 650,000 (US$39) which is the basic rate, and higher lump sum payments will accrue to those who qualify.
Beneficiaries include veterans and revolutionaries who were engaged in the revolutionary struggle before January 1, 1945, from January 1, 1945 until August 18 of the year; surviving relatives of those who were martyred during the same period; labor heroes; Heroic Mothers; Heroes of the People's Army of Viet Nam; Labor Heroes of the American War; and War Invalids. The pensions range from VND329,000 (US$20) to VND1,665,000 (US$100) per month.
Relatives of army and labor heroes in the American War who lost their lives before 1995, and those who were bestowed the Heroic Mothers title posthumously will receive a lump sum payment that is 20 times the basic rate. The same payment will go to relatives after the death of those recognized as Army and Labor heroes long after the end of the resistance struggles.
Wounded and sick soldiers who lose between 5 percent and 20 percent of their health will receive a lump sum payment between four and eight times the basic rate.