The Ha Bac Nitrogenous Fertilizer and Chemical Company, Viet Tri Paper Mill, Sai Son Cement Company and Ha Noi Ceramic Tiles Company taking part in the "Greenhouse Gas Emission Reduction from Industry in Asia and the Pacific" (GERIAP) project has cut down about 1,227,000 tons of Carbon Dioxide per year whilst saving USD$535,510 on production cost. The information was announced in a seminar held by Viet Nam Clean Production Center.
Having applied the Cleaner Production and Energy Efficiency (CP-EE) method, 40 energy-intensive enterprises in nine Asian nations, including Bangladesh, China, India, Indonesia, Mongolia, the Philippines, Sri Lanka, Thailand and Viet Nam,  were able to reduce greenhouse gas emission and save a lot of energy and production costs.
The US$2.1 million project is largely funded by the Swedish International Development Cooperation Agency (Sida), and implemented in close cooperation with the National Focal Points (NFPs) in the nine Asian participating countries.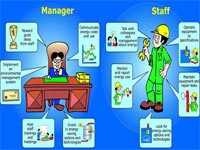 The GERIAP poster