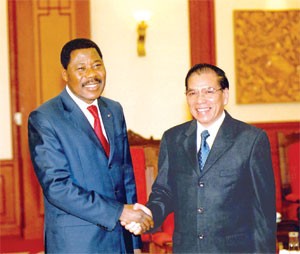 Party Chief Nong Duc Manh receives Benin's President Boni Yayi
The president of the Republic of Benin, Boni Yayi, was warmly welcomed to Viet Nam on Thursday when he arrived in Ha Noi for an official visit at the invitation of his Vietnamese counterpart, Nguyen Minh Triet.
After an official reception on Friday, the pair held talks and agreed that Viet Nam and Benin should intensify their bilateral cooperation, especially in agriculture, health and trade.
Mr. Yayi said Benin expects to cooperate with Viet Nam in a trilateral accord signed by the two countries and the UN Food and Agriculture Organization in 1999 to help Benin develop wet rice cultivation.
He suggested Viet Nam open a commercial representative office in Benin as soon as possible since his country is creating favorable conditions for Viet Nam to invest in mining, energy and infrastructure building.
Benin expects to cooperate with Viet Nam in traditional medicine and wants to import Vietnamese pharmaceutical products.
Later the same day, President Yayi met with Party Secretary General Nong Duc Manh.
Mr. Manh said two countries should accelerate their multifaceted cooperation, particularly in agriculture, commerce, culture and education.
Just as importantly, they should put more effort into the Viet Nam-Africa Action Plan for the 2004-2010 period in order to consolidate and then strengthen relations between Viet Nam and African countries, Mr. Manh said.
The Party Chief expressed a hope that Viet Nam and Benin would contribute more to the Francophone community to develop economic co-operation within the bloc.
For his part, Benin's President went on to congratulate the Vietnamese people "for their achievements in the renewal process under the clear-sighted leadership of the Communist Party of Viet Nam", and described Viet Nam as a model for Benin's development.
Later that day, Mr. Yayi and his delegation laid a wreath at the Memorial of War Martyrs.