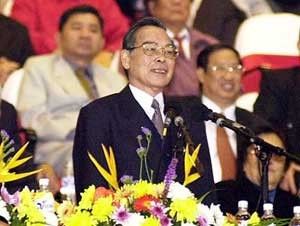 PM Phan Van Khai (C)
On April 20, Prime Minister Phan Van Khai signed the instruction on strengthening the management of capital, properties and officials in state offices and units.
Some serious illegal cases uncovered recently prove that property and personnel management of the State, ministries, branches, localities and units have been loosened, leading to corruption and wastefulness, thus causing public discontent and social disorder.
Thus, the PM has asked ministries, central organs, people's committees of all levels, state economic and administrative units, and organizations charged with the management and usage of state personnel and budgetary capital as well as local and overseas loans to frequently supervise and ensure the compliance with their regulations and policies, and amend mistakes and shortcomings.
Leaders of offices and units using state budget, governmental bond capital and loans must conduct inspection and supervision to quickly discover weaknesses and have proper solutions, strictly handle or ask authorities to handle breaches or offences by individuals and organizations, including criminal punishment. The leaders must take full responsibilities for the results of self-inspection and be subjected to disciplinary measures if the authorities discover any misconduct.
Agencies at which serious cases of corruption, wastefulness or corrupted employees are uncovered by relevant agencies or mass media are required to investigate the cases to identify the specific reasons and impose appropriate punishments on violators.
The inspection findings must be reported to government inspectors in July, 2006 so that a report to the Prime Minister could be made.
According to the instruction, a special team under direct control of the Prime Minister will be established to inspect agencies where serious cases of corruption and wastefulness are discovered.
The working team will assess losses and adverse effects, define objective and subjective reasons and propose best measures to address the problem to the governmental agencies and party committees.
The team also functions in attracting the participation of the whole society and people in the fight against corruption.