Vietnam must improve its labor productivity to bridge the development gap with other countries, Minister of Planning and Investment Vo Hong Phuc said.
He said it was as much of a priority as finding solutions to shortfalls in infrastructure and technology.
Long way to go
Despite recent improvements, experts warned that the country's productivity, indicated by the value of GDP per worker, was far lower than that of other countries in the region and the world.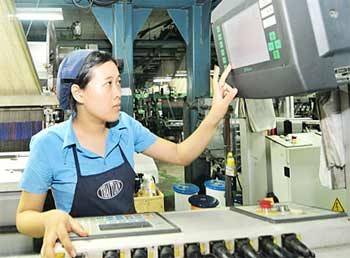 A worker at Thai Tuan Textile and Garment Co., Ltd., Ho Chi Minh City, which has recently modernized its production line to boost productivity (Photo: SGGP)
To survive the competition as the country integrates into the world economy, many domestic enterprises have paid more attention to boosting productivity by using better technologies, setting higher worker standards, and improving management methods.
Nguyen Thi Dien, general director of the An Phuoc Garment, Embroidery & Shoes Co., Ltd., said: "We have invested more in production lines and technology, to cut man-hours and maintain production, particularly in light of the current shortage of workers."
Similarly, Toyota Ben Thanh, a maintenance center of Toyota in Vietnam, has made its services more efficient and shortened the time for car maintenance to one hour instead of the previous four hours.
Industry, agriculture, and forestry are low productivity sectors. For instance, a Vietnamese worker in the textile and garment industry has been trained to operate only about 10 machines, while in other countries a worker can use 30-40 machines.
The main reasons are poor management, inefficient use of manpower, and outdated technologies, experts said.
Productivity key to sustainable economy
At a recent seminar on Vietnam's competitiveness in 2009-2010 held by the Central Institute for Economic Management, experts said most of the country's international competitive indices were low on the ladder and blamed the lack of workers with professional skills here.
Increasing productivity was one of the key factors to sustainable economic development, so it must be included in plans for growth, they said.
Minister Phuc said that better conditions for employees and better employee/employer relations would be added benefits of increased productivity.
The Government should give support businesses in their plans to boost productivity and assist businesses to improve their operating efficiency, he said.
He emphasized that labor productivity must be recognized as one of the leading gauges to economic growth.