Poet and Sai Gon Giai Phong reporter Cao Vu Huy Mien, who inspired many with his beautiful verses about innocent high-school love affairs, died on Tuesday at 5 p.m.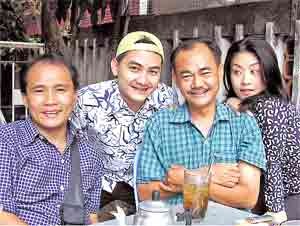 Cao Vu Huy Mien (L) and artists of the HCMC Stage
Mien phoned the newspaper office on Monday morning to ask for a day off because he wasn't feeling well. A day later, his family called and broke our hearts with the shocking news that he had died.

Mien suffered from diabetes. The incurable disease took all his strength during the past two months. No matter how fragile his health was, he always tried to come to work. He talked to us in a witty and humorous manner. We were happy he was optimistic but we still worried about his health.

Huy Mien was one of the poets was a former Youth Volunteer, the movement founded by President Ho Chi Minh to carry out defense and construction activities.

Mien was a simple and kind-hearted man and his poetry reflected the simplicity of his nature.

Many poetry lovers said Huy Mien's poems stirred their hearts because it spoke of the simple things in life, such as the girlfriends he had when he was young, green trees, narrow streets, rivers or even just a quiet grassy place. Many people said his poems captured the most beautiful memories of their own lives.

Some musicians set his poetry to music. His work Hoa Tim Ngay Xua (Violets of My Young Days) was set to music by musician Huu Xuan and this song has been a favorite of many generations of students since 1975.

Mien told his wife that when he died he wanted to be cremated, not buried. He also asked for his ashes to be scattered in the Saigon River.

Last spring, he wrote: "I am sitting by a river, thrilled by its immensity..." Now it is the time for him to join the river as it flows into the sea.

Born in 1955 in Dien Ban District of Quang Nam Province, Huy Mien's real name is Dinh Doan Hung. His published works include Thoi Ky Niem (My Memorable days) and Hoa Tim Ngay Xua.

Aside from Violets of My Young Days, other poems that were set to music include Co Doi Khi (There were sometimes) by musician La Van Cuong and Sai Gon Trong Toi (Saigon in My Heart ) by musician The Hien.