Travel companies participating in a national domestic tourism program topped the 2009 figures in December by attracting a record 985 customers from Ho Chi Minh City for package tours to Northern and Central regions.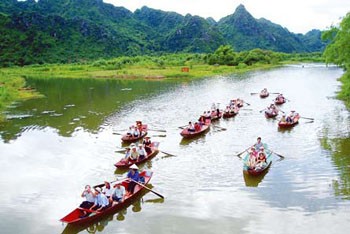 Tourists visit Huong Pagoda in Hanoi. Prices of domestic tours are set to hike by 30 to 40 percent now that the 2009 national tourism promotion program has ended. (Photo: SGGP)
The December increase was partly due to the Solar New Year holiday falling on a weekend, said Tran The Dung, director of The He Tre (New Generation) Tourist Company and deputy head of the member companies participating in the program since Vietnam National Administration of Tourism launched it in February.
He said this gave people more time to travel.
He also said that December was the last month of 60 per cent airfare discounts offered by Vietnam Airlines under their "Vietnam Impression" program to stimulate domestic tourism in 2009.
More than 14,000 customers on package tours took advantage of the National Administration of Tourism program to visit the northern and central regions in 2009.
Travel companies said that the deadline for the promotion program, December 31, had passed and if there are no changes from the administration, the prices of package tours will increase by 35 to 40 percent.