An explosion killed four, injured six people and damaged 35 adjacent houses at Van Phu residential area, Le Trong Tan street, Ha Dong district, Hanoi yesterday afternoon.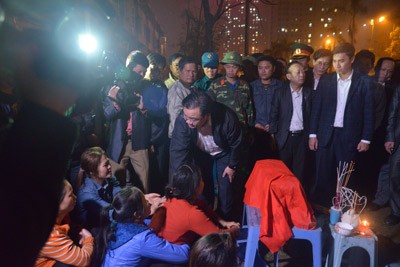 Secretary of the Hanoi Party Committee Hoang Trung Hai visits victims' families (Photo: SGGP)
Local residents who live near Van Phu residential area said that the accident occurred at 3:15p.m. when they were indoor and heard a big blast shaking their houses like an earthquake dropping and breaking many belongings.
A woman said she fled from her house and saw a huge black smoke billow covering the area. The blast' fury was even felt by those who live about three kilometers away from the scene.
Right after the explosion, firefighter and police forces in Ha Dong district rescued victims, blocked the scene and banned vehicles from travelling in Le Trong Tan street. Rescue workers have been looking for victims in damaged houses.
The police have initially determined that the blast was caused by explosives and located it at a household who collect scrap materials in Van Phu residential area.
They are investigating to clarify the explosion's reason. 
SGGP photos of the blast's scene: