This is the final activity of Mr Bill Gates during his one-day visit to Viet Nam and happened in Tu village, Duong Son commune, Tu Son district, Bac Ninh province, about 30 km from Hanoi. Bac Ninh is selected to be Mr Gates' destination as information technology is being applied widely in rural areas and is the first locality in Viet Nam has just launched an e-government system.
The "One Click" project is to use Vietnamese-made computers and low-cost Microsoft programmes to connect rural centres using the Internet.
Bill Gates receives specific welcomed in Bac Nnh
While, the project, named TOPIC 64 or "Training Online Programme on Information Technology for Communities – 64 provinces", is undertaken and executed by the Centre for Research and Consulting on Management (CFC). It is also part of Microsoft's Unlimited Potential (UP) programme, aimed at broadening digital inclusion and developing human sources all over the world.
TOPIC 64 is jointly funded by Microsoft, the US Agency for International Development (USAID),QUALCOMM, and EVN Telecom. It is the biggest project of its kind in Southeast Asia in the field of information technology training and development.
Under the TOPIC 64, CTCs in 64 provinces of Viet Nam will be equipped with software-installed computers with Internet connection, localized UP curriculum in Vietnamese, and UP training programmes, she noted.
Microsoft will co-operate with EVN Telecom to provide service for installation and maintenance of wireless CDMA450 Internet-linked systems and free-use of the Internet for a year. Trainers at the CTCs will also have opportunities to participate in advanced IT training courses.
In addition, Microsoft will also provide localised UP curriculum in Vietnamese to an additional 440 nationwide training centres across the country.
 
Bill Gates receives Bac Ninh's specific welcome. 
 
Earlier, the world's richest man attended a ceremony to sign agreements for supplying software to the Ministry of Finance and the National Steering Committee for Information Technology. Under an agreement, Viet Nam's Finance Ministry has become the country's first government office to use completely licensed Microsoft software.
Speaking at a press conference before leaving Viet Nam, he said: "I have a very strong optimism not just about our activities here (in Viet Nam) but about all the new developments taking place in the country." Microsoft is committed to playing its role by making a broad set of investments in the country, he added.
Mr Gates said that his Viet Nam visit was short, however a number of commitments were reached in an effort to help Viet Nam develop information technology. He said that "information technology can play an important role and is suitable to many areas in Viet Nam."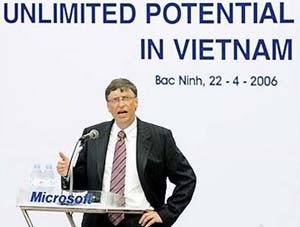 Bill Gates gives speech in the opening of Unlimited Potential Program
He praised the rapid progress in developing information technology in Viet Nam and agreed with the Vietnamese leaders' confirmation that IT would be one of the development targets in the country in the coming period. 
He said he believed that the IT sector in Viet Nam will achieve great success like India and also  even for export, and Viet Nam should learn models from developed countries.
Regarding an agreement signed between Microsoft and the Vietnamese Ministry of Finance on April 22 under which the ministry will purchase 15,000 perpetual licenses for Microsoft Office 2003, he said the licence is concrete proof of the government's commitment in the years ahead to strengthen the awareness and activities around intellectual property.
He expressed the wish to boost Microsoft's co-operation in Viet Nam in the field of IT.
Viet Nam is eager to jump-start its high-tech sector, which got a big boost earlier this year when chipmaker Intel Corp. announced plans to build a US $300 million assembly plant in Ho Chi Minh City. Bill Gates' visit is seen as an official nod of recognition that Viet Nam has potential.
Source: VNA