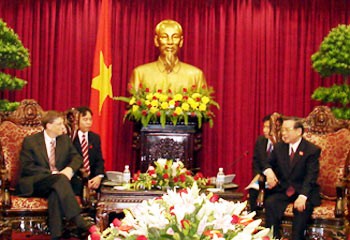 PM Phan Van khai welcome Bill Gates at the Government Guesthouse in Hanoi
Gates, formally welcomed by PM Khai at the Government Guesthouse in Hanoi, said that since the PM paid a visit to Microsoft in the US nearly one year ago, the firm has sought various approaches to co-operate with partners in Viet Nam.
During this visit, Gates said, he would meet partners to research the market, meet students and call at outlying areas to see how they have had access to IT under a programme carried out by Microsoft in collaboration with the Viet Namese Government.
The Microsoft chairman promised to find an appropriate university in Viet Nam to supply with software.
He informed the PM of the progress of the two Memoranda of Understanding on co-operation signed between the two sides during PM Khai's visit to the US in June 2005.
PM Khai in turn said he hoped that after Gates' visit to Viet Nam, the relationship between Viet Nam and Microsoft would markedly progress and Microsoft would see Viet Nam as a strategic partner.
After briefing Gates about Viet Nam's achievements over the past 20 years of renovation and the country's socio-economic orientations for the future, the PM proposed that Microsoft help Viet Nam to build an international-standard university in IT and that the Gates Foundation continue its humanitarian programmes on hepatitis B and HIV/AIDS prevention in Viet Nam.
Source: VNA