Microsoft Corp. Chairman Bill Gates and his wife are visiting Viet Nam to review a national vaccination program sponsored by the pair's charity fund.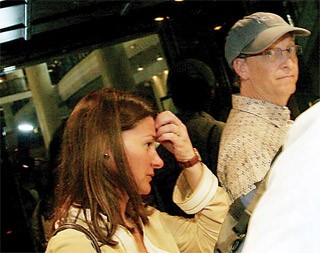 Bill Gates and his wife are at Hilton Hotel in Ha Noi on April 2
The Gates, along with officials from the Health Ministry, paid a visit Monday to a clinic in Gia Lam District, on the outskirts of Ha Noi, where medical workers vaccinate infants against tuberculosis, measles, poliomyelitis, whooping-cough, tetanus, diphtheria and hepatitis B.
The group witnessed the immunization of several babies and chatted with mothers about the program and issues pertaining to the health of children and pregnant mothers.
On the same day, Mr. Gates also met with Vice Minister of Health Trinh Quan Huan. "He expected to continue the national vaccination program", Mr. Huan said, "I told him that, according to the World Health Organization, the vaccination rate of children in Viet Nam currently stands at 90%".
Mr. Gates said that he was very impressed with the program's effectiveness and will support future immunization programs here including those targeting other infectious diseases and HIV.
In addition, he stated that one of the aims of this visit was to develop a model of the vaccination program here that could be used in some African countries where he is also sponsoring health programs.
Dr. Pham Ngoc Dinh, Vice Head of the National Institute of Hygiene and Epidemiology also met with Gates and Institute leaders on Tuesday to discuss a vaccination project aimed at the human papilloma viruses (HPV).
Once the project is underway, Viet Nam will receive $245, 000 to support it from the Bill and Melinda Gates Fund.
Later in the day, the famous entrepreneur was received by Prime Minister Nguyen Tan Dung.
The Bill and Melinda Gates Foundation, the world's largest philanthropic foundation, concentrates on promoting global health and fighting poverty and hunger.