The modernisation of Viet Nam's railway system is projected to cost about US$5.1 billion, experts said during an event on detailed plans to upgrade the 1,726 km stretch of the North-South railway from Ha Noi to HCM City.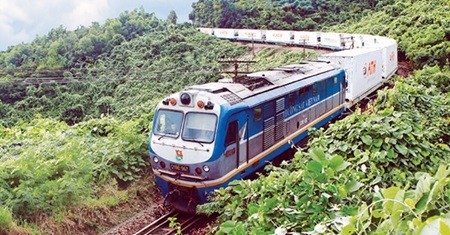 A north-south train of Viet Nam Railway Authority. Viet Nam plans to spend US$5.1 billion to modernise the North-South railway from Ha Noi to HCM City. (Photo: VNRA)
The plan, introduced to the public on Friday by the Viet Nam Railway Authority (VNRA), outlined major projects to be carried out until 2030. The plan aims to eliminate bottlenecks, such as the tunnels of Khe Net and Hai Van, and move the Da Nang Train Station out of the city, as well as more than 90 other infrastructure upgrades to the railway system.
The country's fleet of locomotives would expand to include an additional 14 passenger trains and 24 freight trains.
Planners are weighing two options to modernise the country's railway system and increase passenger train speeds. The first option would increase the rail speed to 84.4 kmh for passenger trains and 55.7 kmh for freight trains by 2020 at a cost of about VND85.2 trillion (US$3.96 billion).
The section option would increase the rail speed to 95.7 kmh for passenger trains and 63.1 kmh for freight trains at a cost of about VND110.8 trillion ($5.1 billion).
Investment sources include the State's budget, official development assistance sources, and build-operate-transfer and build-transfer models.
Facing obstacles
The national railway sector has been struggling to overcome challenges in recent years to expand its market, despite improvements to the quality of its service.
The opening of many new highways, which are attracting more passengers and transport companies, has contributed to a decrease in demand for railway services.
Nguyen Van Binh, deputy general director of the Ha Noi Noi Railway Transportation Company (HRTC), said the number of railway passengers has declined significantly since the Noi Bai-Lao Cai Highway opened last September.
A report from the HRTC said the company has loaded and unloaded nearly 3.1 million tonnes of cargo and transported more than 4.15 million passengers in the past eight months, profiting only VND1,600 billion (US$704million), or 87 per cent of what it anticipated for this period.
The industry views this as an indication that competition to attract passengers and cargo is mounting. As a result, the industry is preparing to face challenges in recovering its market share in the near future, Binh said.
On the Ha Noi-Dong Dang railway line, the quantity of cargo and passengers being transported on the Gia Lam-Nanning international train also plunged because of the inconveniences tourists face while crossing the Viet Nam-China border-gate, according to Viet Nam Railways.
The VNR said it has proposed that the Ministry of Culture, Sports and Tourism conduct administrative and customs procedures on the train to save time for passengers and make the international arrival and departure processes more convenient.
In particular, the VNR suggested that Chinese and Vietnamese tourists from the two countries' bordering provinces be allowed to carry only their passports while travelling by trains through Dong Dang-Bang Tuong and Lao Cai-Ha Khau international railway stations.
This would help to attract visitors, passengers and cargo transportation by train, the VNR said.
Further, there should be flexible policies and mechanisms for the company's units and customers, especially in after-sales policies, it stated.
Healthy competition and close cooperation should be ensured, even with partners from the same sector, said Nguyen Huu Tuyen, general director of the VNR's Transport Business Department.
Tran Quoc Dat, a member of HRTC's Consulting Board, said all railway activities that were accused of having unreasonable costs should be re-examined, with the goal of lowering charges to meet the needs of specific types of customers. He said discounts should be offered, especially for large cargo units.
VNR officials described the proposed changes as essential governmental regulations that needed to be carried out thoroughly and effectively to boost the operation of railway transportation services.