The central province's leaders suggested continuing the investigation although shipbuilding companies have pledged repair or replacement of damaged machines.

After assessment officials and experts spotted many wrongdoings in the vessel building process, the company distributing Mitsubishi fishing boat machines in Vietnam and shipbuilding companies have taken responsibility and promised to replace new machines for breakdown vessels.

On June 11, deputy chairman of the provincial People's Committee Tran Chau told Sai Gon Giai Phong that some boat owners tended to withdraw their previously filed complaints, wanting to solve the issue quickly and amicably to soon resume fishing.

Besides asking them to repair breakdown vessels for residents, the province wanted the police agency to continue investigation and tackle violations.
In documents sent to the provincial People's Committee and the Department of Agriculture and Rural Development, two companies Nam Trieu and Hoang Gia Phat have taken responsibilities for damaged Mitsubishi machines they provided.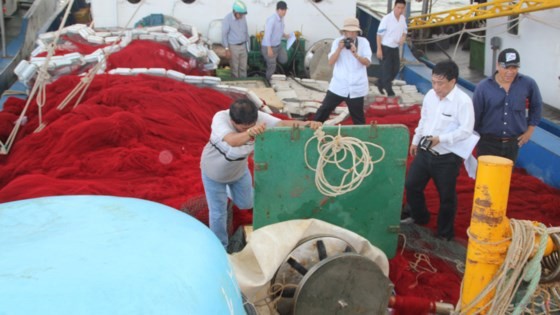 Officials from the Ministry of Agriculture and Rural Development inspect 18 damaged steel hulled vessels in Binh Dinh province (Photo: SGGP)
Previously, Korean experts from Mitsubishi Group had arrived in Binh Dinh to inspect vessels which machines have been provided by the group's distributors in Vietnam and uncovered that eight engines are not Mitsubishi branded.
Mr. Teddy Truong Thuong, sale representative of Mitsubishi Vietnam, said that Trung Thinh and CMT companies are two official agencies of Mitsubishi. The group has provided 300 machines for the steel fishing boat building under Decree 67.