The continual downpour over the last two days has swollen rivers in the central province of Binh Dinh, causing flooding in several areas yesterday afternoon. Thousand of people were found leaving their homes during last night.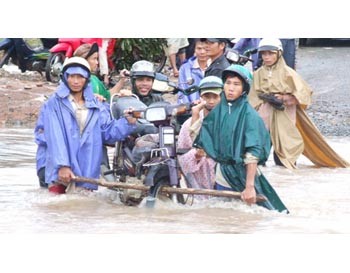 Central provinces continue facing floods on November 29 (Photo: Tuoi Tre)
Floodwater at Thanh Hoa dam in the Kon river system and Lai Giang river was from 0.1-0.45 meter above the alarming level 2.
A host of streets in Quy Nhon town like Tran Hung Dao, Tran Phu, Nguyen Thi Dinh and Chuong Duong were sunken with many sections being inundated under 0.5 meter of the floodwater.
Flooding occurred in most of the province's districts including Hoai Nhon, Phy My, Phu Cat, An Nhon, Tuy Phuoc and Quy Nhon town.
Several communes in eastern Tuy Phuoc and southeastern Phu cat were entirely isolated. The floodwater rose quickly in Nhon Binh and Nhon Phu wards of Quy Nhon town, sending thousand of households to evacuate their belongings and flee their homes on Monday night.
As of 8pm the same day, the water overflew and caused traffic congestion in Hung Vuong Street.
1A Highway, section through Binh Dinh Province, has been severely damaged with thousand of pot holes. Several people tumbled when travelling on the road by motorcycles and bicycles as the holes were covered with water. Buses had to thread their ways to avoid those holes, making the traffic more complicated.
In the neighboring province of Phu Yen, a couple were swept way while they were crossing a stream on the way to home from their mountain fields in An Linh Commune, Tuy An District on Sunday afternoon.
Nguyen Chan, 55, tried his best to save his wife and was sunk in the fierce water current. The unlucky man's body was then found one kilometer from the accident on the following day.
The National Hydro Meteorological Forecasting Center said that the flooding on rivers from Binh Dinh to Khanh Hoa provinces will peak highest levels today. Localities should keep watch of flash floods and landslides.