An environment inspection team, lead by Luong Duy Thanh, deputy inspector of the Vietnam Environment Administration, worked with the Binh Duong Province People's Committee Thursday to outline a large-scale check on local industrial zones and business compliance with environment regulations.

The inspection team will carry out checks on central wastewater treatment systems at 24 industrial zones operating in the province and then at businesses suspected of illegally dumping untreated wastewater into rivers.

Further checks will be carried out on the operation of water- source pollution treatment systems at Saigon and Dong Nai rivers to see whether or not that they are working effectively.

Recently, an increasing number of businesses have been caught seriously violating environment protection regulations in Binh Duong Province.

The province's Peoples' Committee has imposed administrative fines on six companies that had illegally dumped untreated wastewater into Thi Tinh River.

San Miguel Pure Foods Vietnam, located in Lai Hung Commune, Ben Cat District, was told to pay an administrative fine of VND1.3 billion and a further VND1.2 billion ($67,000) as environment protection fees due in previous years.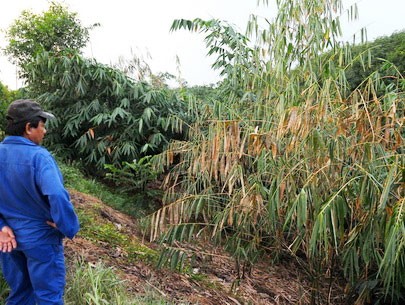 A local farmer's bamboo garden is covered with a thick layer of smelly mud after the embankment at San Miguel Pure Foods Vietnam's wastewater tank was breached (Photo: Tuoi Tre).
Twelve days after the embankment of the company's wastewater tank was breached, fishermen living along Thi Tinh River said that the volume of fish in the river had decreased significantly due to water contamination.

The pollution has also caused damage to 1.8 hectares of rubber trees, killing 40,000 Tra fish and 4,000 frogs bred by dozens of families in Ben Cat.

Truc Dien, a swine breeding company, had to pay a fine of VND 33 million. The company discharged 250 cubic meters of untreated wastewater into Ben Van Stream, which flows into Thi Tinh River.

Truc Dien was also forced to suspend its operations.

Other companies found polluting the river include Dai Viet Company, which was fined VND53 million, Khai Hoan Co. Ltd. which received a fine of VND22 million and Hiep Thanh Co. VND 25 million.

MDF Vietnam, which produces wooden furniture, had its works suspended.

Related articles:
Environment polluter fined over VND100 million
Wastewater treatment facility found to be 'inadequate'