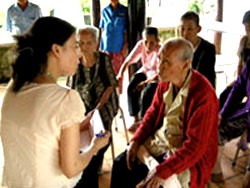 Chanh Phu Hoa social sponsor center is accommondation of many unfortunate old people. (Photo: NLĐ)
The top brass of the social sponsor center of Ben Cat District in Binh Duong Province has been suspended pending investigation they pocketed a large amount of cash and land belonging to the center.
The province's Labor and Social Welfare Department has taken this action against director Tran Van Hung and deputy director Mai Thanh Trung following an audit in which inspectors alleged that Mr Hung and Mr Trung had misappropriated more than 17 hectares of land and around VND1 billion (US$59,000).