Vietnam Petroleum Corporation has stated that the Binh Minh 02 ship that was damaged by Chinese patrol boats, would be ready to go out to sea within the next few days.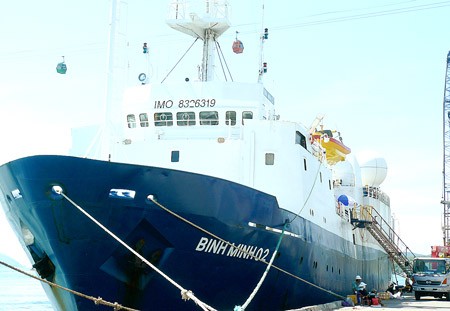 Binh Minh 02 ship.(Photo:SGGP)
Chinese patrol ships had entered into Vietnamese territory on May 26 and cut off the cables of Binh Minh 02 ship engaged in oil exploration.
A representative from Vietnam Petroleum Corporation said that the incident had caused damages of hundreds of dollars and affected the corporation's oil production.
Corporation heads had met on June 1 and praised the staff of Binh Minh 02, Dong Nam 2, Binh An 1 and Van Hoa 739 ships for their efforts to resolve the incident.
The PetroVietnam Technical Service Corporation (PTSC), an affiliate of PetroVietnam, had dispatched the seismic survey ship Binh Minh 02 to conduct seismic surveys at Lots 125, 126, 148 and 149, an area that lies totally within the exclusive zone of Vietnam territory. The Chinese ship had cut the cables of Binh Minh 02 ship, threatening that it violated China's sovereignty.