On November 16, Binh Thuan Province gave official permission to a 96-year-old former Vietnamese soldier, who has spent 20 years hunting for 4,000 tons of gold he claims was buried under the Tau Mountain by the Japanese in 1945, to continue his excavation of the site.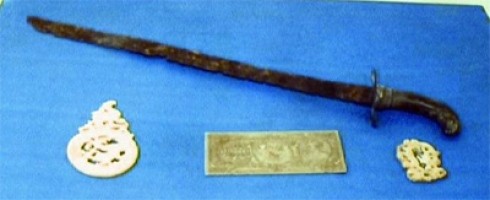 Some Japanese artifacts excavated from Tau Mountain by 96-year-old Tran Van Tiep
The People's Committee in the central province of Binh Thuan agreed to allow 96-year-old Tran Van Tiep, a native of Hai Phong City, to continue his excavation of the site he believes has buried gold that the Japanese left behind. The extension permission has been granted till June 30, 2013.
The document issued by the People's Committee states clearly that the old man must stop excavation work by due date if he does not present any new details.
Earlier, the People's Committee had allowed the old man to continue pursuing his 'gold' dream until October 10, 2012.
 
Tran Van Tiep is originally from Hai Phong City but moved to Ho Chi Minh City when he was 10-years-old. Tiep has long believed that at the end of World War II, after Japan surrendered to the Allied Forces, the Japanese General Yamashita ordered his soldiers to bury about 4,000 tons of gold and other ornaments at the base of a mountain near Ca Na Bay, the border of Binh Thuan and Ninh Thuan Provinces.
The mountain was later identified as Tau Mountain, now in Phuoc The Commune in Tuy Phong District in Binh Thuan Province. Tiep has firm belief in the existence of the treasure, which was further strengthened in 1992 when he found an old Japanese sword in its scabbard, a 10,000-yen coin, a broken metal hookah, and two metal Black Dragon insignias during an excavation on the east side of the mountain.
He has spent 20 years searching for the treasure and much money to hire a geographical engineer and an excavation team. He has also paid a deposit of VND500 million (US$24,000) to the local authorities for environmental damages.