The number of suspected bird flu patients has reached 113 in 15 provinces of Thailand, according to Bangkok Post on July 30.
Thailand's public health Ministry announced that a new bird flu outbreak was detected in Phitsanulok and Phichit. One dead was confirmed due to H5N1 virus. Phichit was the first reported new outbreak in 2006 in Thailand.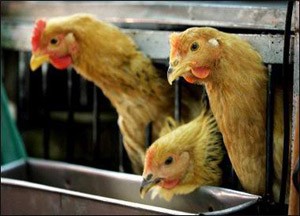 Bird fu patients get the disease through touching poultry
The Laotian government also affirmed that H5N1 virus was found in 2,500 dead poultry raised in a farmhouse 25 km far from Vientiane, the capital of Laos. The latest outbreak was in May this year.
The previous month, an official of Indonesian government said H5N1 virus has caused the death of a 5-year-old patient in East Java.
China, which establishes large trade exchange through border gates with Viet Nam, has not thoroughly controlled bird flu.
Avian epidemic has broken out in Viet Nam's neighboring countries; the epidemic therefore has still imperiled Viet Nam.
Viet Nam was hailed by World Health Organization (WHO) and other countries for its successful prevention of avian flu. Thailand was also praised later. The two countries were set as models for efforts in fighting the pandemic.
However, once the endemic has broken out in Thailand, it is a high risk of the epidemic spreading to Viet Nam; therefore, it should be under constant surveillance.
No new outbreak of avian flu and patient infected with H5N1 were reported in Viet Nam since the end of 2005. The endemic caused serious damage to farmers, consumers and the country's economy.
To sweep out the pandemic, the Vietnamese government invested a big sum of money and effort.
For example, the government disbursed VND245.3 billion for the prevention of the epidemic in localities and production restoring in 2004.
In 2005 hundreds of billions of VND was spent on inoculation for poultry.
At the meeting with officials from the Ministry of Agriculture and Rural Development (MARD) on review of national vaccination drives for poultry stocks, Vietnamese Prime Minister Nguyen Tan Dung requested to better the work against the epidemic.
The the first phase of the vaccination campaign, carried out in the early months of 2006, has not reached the target; some provinces implemented the vaccination slowly, the inoculation rate was low, especially some localities made only one injection, which did not produce the desired effects.
Only 131.4 million of the national poultry stock have been vaccinated by July.