A slew of construction works, ranging from a manmade island in the shape of a bird off Kien Giang Province to a "green" urban project in the Central Highlands, began Monday.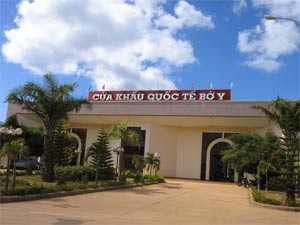 The Bo Y International Border-Gate Economic Zone where four tourism projects began Monday


Construction of the 200-hectare Hai Au Island, using the most modern technology, began off Rach Gia City.

Being built by the Southern Engineering and Informatics and Investment Corporation for the Tao Investment and Industry Corporation (ITA Group), it is 172 meters offshore and will look like a seagull stretching its wings to fly out to sea.

It will be divided into the northern and southern parts which will be linked by a 200-meter-long bridge, and have a residential area, parks, resorts, and other tourist facilities.

The work, which has a budget of VND1.5 trillion (US$93.7 million), is slated to finish in 2017.

When completed, it will be reminiscent of Dubai's Palm Jumeirah which is a palm tree-shaped manmade island in the Persian Gulf.

The same day work began on a bridge over Tam Giang Lagoon to link its northern banks.

The 600-meter Ca Cut Bridge in the central Thua Thien-Hue Province is being built to facilitate traffic in Huong Tra District.

It is expected to cost the Thua Thien – Hue Department of Transport VND311.5 billion (US$19.5 million) and be completed in 20 months.

Groundbreaking for four tourism projects worth VND3 trillion (US$187.5 million) in the Central Highlands province of Kon Tum too was organized Monday by the Bo Y International Border-Gate Economic Zone.

Three of them -- a five-star hotel with 800 rooms; an 18-hectare urban zone with villas, an apartment block, and office buildings; and a 29-hectare urban zone -- will come up on the economic zone's western side.

The fourth, a 50-hectare, eco-friendly urban zone with villas and gardens, will come up in the northern area.

Hoang Quan Real Estate Company began work on the Du Long Industrial Zone, the last project announced Monday, in Thuan Bac District in the southern province of Ninh Thuan.

The 407-hectare zone is expected to cost VND528 billion (US$33 million) and due to be completed by 2012.