Although sugarcanes have been ready for harvest, farmers in Quang Ngai Province are chopping down their sugarcanes to switch to other crops instead of harvesting sugarcanes because of extremely low prices.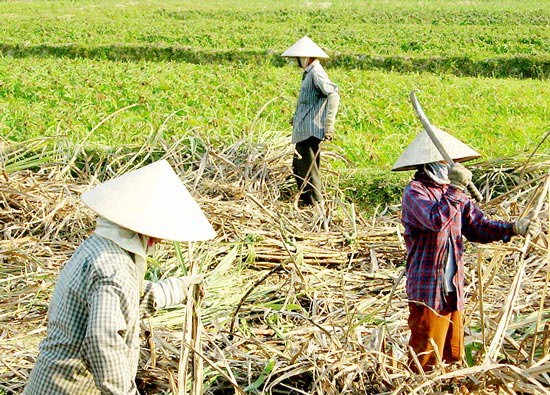 Farmers destroy sugarcane fields to switch to grow other crops (Photo: SGGP)
Farmers in Quang Ngai Province only earned around VND300,000-400,000 per 500 square meters for a year of cultivation of sugarcanes. Meanwhile, in Binh Dinh Province, due to a shortage of money, sugar refinery plants compelled farmers to receive sugar instead of money.
 Despite the fact that sugarcanes were not completely harvested, Mr. Nguyen Chanh, a farmer in Tho Loc Hamlet, Tinh Ha Commune, has destroyed his remaining sugarcane area of nearly 1,000 square meters without hesitation to switch to grow mung beans, peanuts, and cassava plants. An area of 500 square meters of sugarcanes brought in VND3 million. After deducting other expenses not including land rental, he only had VND400,000, Mr. Chanh explained.
Other farmers were also growing peanuts and cassava plants on fields which were once sugarcane fields a few years ago.
Nguyen Van Muoi, a farmer in Phu Lam Tay Hamlet, Hanh Thien Commune, was unable to look for manpower to harvest his sugarcanes because it is same time to harvest acacia. In 2013, Mr. Muoi hired nearly 8 hectares of land to grow sugarcanes. However, last year, he merely grew sugarcanes on an area of 5 hectares because the price of sugarcane was extremely low whereas production cost and manpower cost climbed rapidly. Low prices have disheartened Mr. Muoi as well as other sugarcanes growers in Hanh Thien Commune. After this crop, he probably will not grow sugarcanes again.
According to Duong Van To, director of the Department of Agriculture and Rural Development of Quang Ngai Province, fickle sugarcane price made farmers neglect their crops. Hence, both productivity and yield fell sharply.
From November 2014 to now, Agriculture Cooperative of Hamlet 4 in An Thanh Commune in Gia Lai Province's Dak Po District has sold more than 3,000 tons of sugarcanes to Binh Dinh Sugar Joint Stock Company. With an average price of VND92 million per ton of sugarcanes, the plant would have to pay farmers more than VND2.7 billion. However, until now, the cooperative has merely received VND100 million. The rest of money was converted into sugar. But according to Mr. Thieu Kim Chung, chairman of the cooperative, the payment by sugar is only on paper because the plant converted money into sugar at high prices then it became the intermediary to sell the sugar at low prices. Thus, farmers continue to suffer a loss of VND2 million for each ton of sugar.
With a total area of more than 38,000 hectares and a production of 50 tons per hectare, local farmers have lost a large amount of money. Most farmers borrowed money from banks to invest in their sugarcane fields, so now they have to earn money to pay their loans. The specific characteristics of sugarcanes is that they must be harvested when they are ready and they have to be sold to sugar millers immediately because they cannot keep long. Knowing the aforesaid weak point of sugarcane growers, millers have made every effort to lower the price. There were cases that millers forced farmers to receive sugar when the latter sold their sugarcanes to the former.
In front of the Binh Dinh Sugar JSC, there are many traders who seek to buy sugar from farmers. In order to contact these traders, Binh Dinh Sugar JSC continues to play as a middleman between farmers and traders. When sugar is in the hands of traders, its price is lower than the price level that the company planned to pay to farmers. However, the most absurdity is that traders then sell this amount of sugar back to the company. Eventually, sugar returns to the company and it is so obvious who suffers huge loss in this vicious circle.
According to local sugarcane farmers, Binh Dinh Sugar JSC continually showed sluggishness in payment in the two recent sugarcane crops. Thousands of farmers from Gia Lai Province flocked to the company to collect debts. The matter lasted for months and was only settled after authorities' intervention.
Farmers have harvested around 60 percent of sugarcane area. During the first days of 2015, they have been slowing down harvest as sugarcanes were unsalable. Late payment or payment by sugar is turning the sweetness of sugarcanes into bitterness.