The demand for Tet train tickets at the Saigon Railway Station that opened bookings three days back has created a parallel black market selling tickets at a higher profit margin that the actual cost.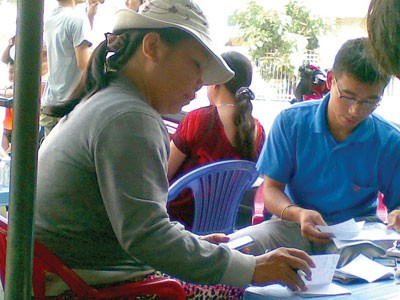 A broker (L) selling tickets in black to a customer in a coffee shop in front of Saigon Railway Station (Photo: SGGP)
At least ten such brokers were seen in front of the Saigon Railway Station in District 3 loudly calling out to people desperately trying to book train tickets for the Tet festive season. They were seen offering the Tet tickets at VND200,000-400,000 higher than actual cost and asking for an advance deposit of VND100,000 for collection after one week.
Brokers even went inside the station to entice those who could not buy tickets.
Saigon Railway Station has already warned passengers not to buy tickets in black so as to prevent sale of fake tickets, which are now replicated in high quality. Customers can hardly make out the difference. 
Nguyen Van Thanh, head of Saigon Railway Station, said that the station has printed names and identity card numbers of passengers on the tickets to deal with the black market menace.
The station will check all tickets on peak days of the Tet season and if passengers cannot present ID cards with names and numbers on the tickets, their tickets will be declared invalid. 
In three days of sales on the website www.vetau.com.vn, Saigon Railway Station offered 40,000 tickets online and will offer another 28,000 tickets till December 14.
After December 14, unsold tickets will be sold directly at the station from December 20-23.
Related article:
Network congestion blocks online Tet ticket sales