A "Blog Viet Nam " selection program will be launched on the occasion of the 16th Information Technology Week this month.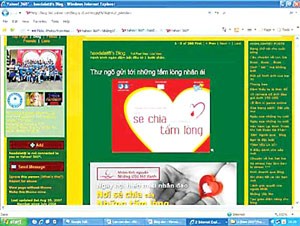 A Vietnamese blog calls for blood donation
The program, which will last through the end of the year, will select Vietnamese bloggers who have attractive writings in Vietnamese that benefit the community.
The award presentation ceremony is expected to be held on the founding anniversary of the Ho Chi Minh Communist Youth Union on March 26, 2008.
According to the Viet Nam Internet Center, there are more than one million Vietnamese bloggers. Owning a blog is becoming more and more popular to Vietnamese teens, said the center.