The Animal Health Department officially announced yesterday that Porcine Reproductive and Respiratory Syndrome Virus (PRRSV) – also called "Blue Ear" – has occurred in pigs in Can Giuoc District in the Mekong Delta province of Long An, as confirmed by recent tests.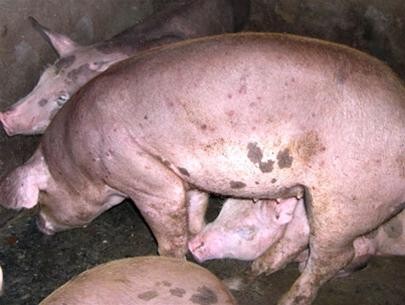 Breeder Nguyen Van Ngoi's diseased pig covered in red spots
From July 13 to 28, deaths of 91 pigs of Nguyen Thi Thu Thuy and Nguyen Van Ngoi in Can Giuoc District were reported.
According to Mr. Ngoi, his pigs contracted the disease as he bought pork from market.
This proves the virus's existence in local pigs, and the animal health department has subsequently requested that local veterinary workers keep a close watch on the disease and that sterilization be carried out.
Transport of pigs into and out of the affected district must be banned and pig sale and slaughter must be closely monitored, especially that of meat without a label stating the origin of the product as predominately found in flea-markets.
The head of Thu Duc's controlling station Nguyen Thanh Binh said that around 3,500 to 4,000 pigs have passed through the station. They have not found any cases to date.
The employees, market managers, traffic wardens and vets will work together around the clock to prevent diseased pigs from coming into Ho Chi Minh city.
Pig breeders have been warned not to increase their number of pigs, and to be careful about the feed they use.
The price of pork started to fall in markets as breeders have tried to sell their pigs at low prices for fear that their pigs too will contract the disease. However, the shops of Vissan Limited Co. have been crowded with consumers and prices have kept stable.