Some 20,000 pigs have died of Porcine Reproductive and Respiratory Syndrome Virus (PRRSV) also called blue ear disease in the central province of Quang Nam, announced the province's animal health department.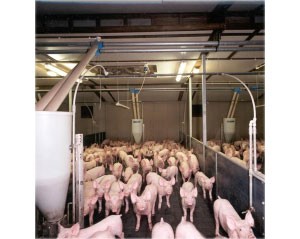 A herd of infected pigs become weak and thin
Furthermore, thousands of pigs are being infected with the disease daily and the quick spread of the epidemic worries local authorities and causes concerns among breeders.
Quang Nam's authorities are crying out for help as the rampant disease has already wiped out many herds in the province.
The central province of Quang Nam is the sixth to be affected by the disease to date.
Due to the quick and worrisome spread of the disease, Agriculture and Rural Development Minister Cao Duc Phat yesterday inspected the province.
After visiting some of the affected farms, the minister said at a meeting with the provincial administration that local authorities were too late in announcing the disease, veterinary forces have been lax in their work and breeders have not been provided with enough understanding of the disease or appropriate treatment.
Mr. Phat called for the mobilization of all available resources to curb the outbreak.
The local government must step up measures against the disease and implement a sterilization program as the minister requested.

Those in charge of controlling the disease must prevent the spread from infected districts to other districts.
Moreover, breeders who have lost their pigs to the epidemic are being forced to slaughter their entire herd; the government will provide them with VND10,000 for each kilo of meat lost.
Some 250,000 doses of vaccine are earmarked for Quang Nam this week, said Bui Quang Anh, head of the Department of Animal Health.
Worryingly, the virus is mutating and making the task of control and prevention much more difficult.
In 2006, two million pigs died from PRRS in China.