The 43th commemorating ceremony of Bodhisattva Thich Quang Duc's self-immolation was jointly held by Office II of the Viet Nam Buddhist Sangha (VBS) Central Committee and the Executive Board of the Ho Chi Minh City Buddhist Sangha at the Quang Duc Monastery on May 17.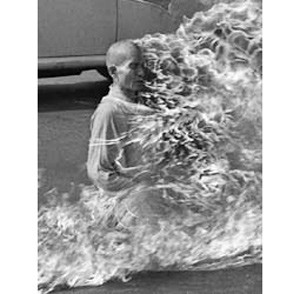 The Most Venerable Thich Quang Duc burned himself to death in central Sai Gon in 1963.
Thich Quang Duc burned himself to death in central Sai Gon on June 11, 1963 to protest against the oppression of the Diem administration on the Buddhist religion.

His Monastery was just outside of Hue in Central Viet Nam. The light blue Austin which he drove to Saigon to commit his act can still be seen there (along with a picture showing his self-immolation, with his car in the background).

After his death, his body was cremated. During the cremation, his shrunken heart still remained intact. It was henceforth considered holy and placed in the care of the Reserve Bank of Viet Nam.

Addressing the ceremony, the Most Venerable Thich Tu Nhon, permanent Vice Chairman of the VBS Central Committee's Executive Council expressed that by burning himself to death to preserve Buddhism dharma, Bodhisattva Thich Quang Duc set a lofty example of sacrifice and patriotic spirit for the sake of fellow-citizens, co-religionists, religious freedom and existence of Buddhism.