One of six Vietnamese crewmen who went missing after their Korean-flagged fishing boat capsized in Japanese waters has been found dead onboard, Republic of Korea (RoK) media said on March 6.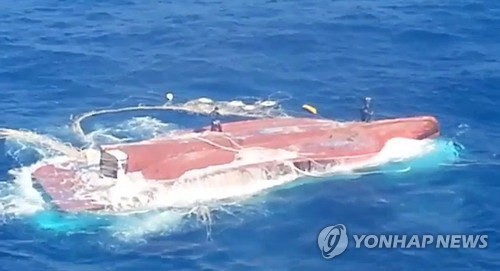 Dongkyeong 201 was found capsized about 110km east of Homigot port on March 3 (Photo: Yonhap News)
The city of Pohang's coast guard said that at 2:20 p.m. on March 6 Dongkyeong 201 was towed from the accident site to a port in Yeongil Bay. It is scheduled to be brought to the Guryongpo Port in Pohang for further investigation.
Around the same time, competent agencies found the Vietnamese sailor in a rope storage area in the boat. He has not yet been identified.
The other five Vietnamese crewmen remained unaccounted for.
Also on March 6, the fourth day since the fishing boat was found capsized about 110km east of Homigot Port, the RoK deployed 10 specialised vessels, two fisheries vessels and three aircraft for the search.
The search area lies from 28km east of Pohang's Wonpo Port to the place the shipwreck was found.
The 29-tonne Dongkyeong 201 lost communication with the city's fisheries information control centre at 9:30 p.m. on February 29 (local time) after departing from Chuksan Port, Yoengdeok district in Kyeongbuk province at 2 p.m. the day before. A Korean captain, 47, and six Vietnamese crewmen were on board.
The fishing vessel was found to be capsized in Japanese waters at noon on March 3. Later the same day, a body was found and is believed to be the Korean captain.
The Vietnamese sailors were sent to the RoK by Vietnam's International Manpower Supply and Trade JSC, and the Tourist, Trade and Labour Export JSC, according to notification given by Pohang's coast guards to the management board for Vietnamese workers in the RoK on March 2.-VNA