The body of the British tourist who went missing on June 4 while climbing Fansipan Summit in the northern province of Lao Cai was brought to the provincial Lao Cai General Hospital on June 10.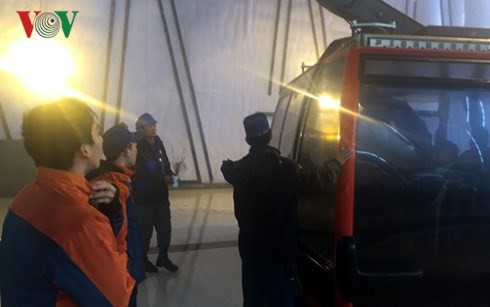 The body of the British tourist is brought out of the forest by a cable car (Source: VOV)
The body of Aiden Shaw Webb, 23, was examined by forensic experts before being moved out of the Hoang Lien National Park by local rescuers using a cable car of the Fansipan Sapa Cable Tourism Service Co. Ltd.
The climber was found dead at about 1 p.m. on June 9 in a 300m-deep crevice more than 1km from pier T4 of the cable car system to the summit. The location is around 2,800 metres above sea level.
Webb and his girlfriend, Blue Bell Eloise Baugham, arrived in Sapa town of Lao Cai and booked a Quyet Tinh Hotel room on June 2.
In the early morning of the next day, Webb went climbing while his girlfriend stayed at the hotel. He started the journey in Sin Chai hamlet and followed the direction of the cable car system to the summit of Fansipan.
His girlfriend said she received the last Facebook message from Webb at about 6 a.m. of June 4, where he said he had sustained injuries to arms and legs. The same day she reported his missing to local authorities.
The path to the 3,143-metre Fansipan Summit, the highest peak in Vietnam, through Sin Chai is said to be very dangerous and not suitable for inexperienced climbers.-VNA