The dead body of pilot Tran Quang Khai from crashed fighter jet Su-30MK2 was taken ashore on a vessel of the border guard force in the north central province of Nghe An at 5a.m. this morning.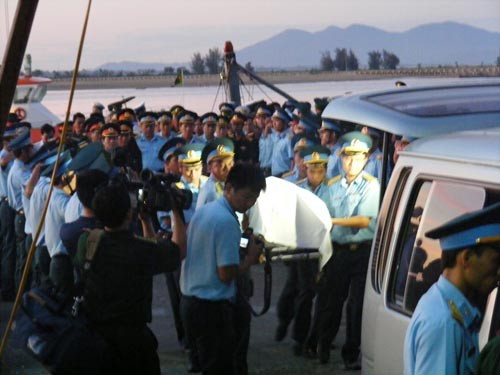 Pilot Tran Quang Khai's body was taken ashore in Nghe An province this morning (Photo: SGGP)
While fishing at sea, fisherman Dau Van Kinh from Nghi Xuan District found the pilot's body wrapped in a parachute last night.
The provincial border guard force dispatched the rescue vessel to access the fishing boat and take the pilot's body ashore.
Relatives and comrades of pilot Tran Quang Khai waited overnight at the wharf of Flotilla 2 to receive him in boundless grief.
Debris of CASA-212 aircraft with nine members aboard has been found 29 nautical miles southeast of Bach Long Vy Island after they lost contact while searching for the pilot two days ago.
Prime Minister Nguyen Xuan Phuc last night sent a dispatch expressing his condolence to families of the passed away pilots and sharing worry with loved ones of the nine missing members on CASA-212.
He also sent his regard and encouragement to rescuers including military forces, local authorities and fishermen who have made great efforts to seek the crashed aircrafts and victims.
The PM required the Ministry of National Defense and local authorities to continue mobilizing all resources to look for the nine missing ones, determine locations where the two aircrafts crashed to have salvage measures and find reasons of their accidents.