The bodies of all 16 who died in the horrific tourist boat tragedy on the Saigon River last Friday have been recovered when divers found the body of a nine-year-old boy on May 22nd.
The body was found at 5 am in the engine room of Din Ky tourist vessel, which had been sunken at the bottom of the river for 3 days and began to decompose.
The body was taken to the morgue of a hospital in Thuan An district, Binh Duong province , then was sent to his home for burial.
The name of the boy, Pham Xuan Khanh, was the son of Phan Thi Huong and Phan Xuan Long, 35, of Ha Tinh province.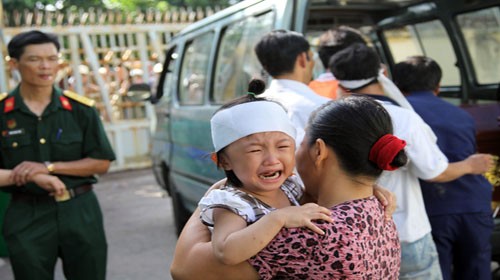 Younger sister of the ill-fated boy cried seeing the body of her brother
The salvage of the touring boat was yet to be completed by this morning due to flood tide. As a result of a hard clash, the bottom of the ship was badly damaged and it is difficult to bring the sunken ship to the water surface.
After the accident, HCM City Department of Transport decided to inspect all restaurant ships. The inspect will begin next month. Any vessel failing to meet waterway safety regulations would have to immediately suspend operations, the department said.
There are nearly 10 restaurant-style ships sailing on the Saigon River, the Department added.
According to Le Xuan Thanh, head of the Military Command of Tuan An District, Binh Duong Province, the Binh Duong police are continuing with their investigations.