Natural disasters have become an urgent matter of Viet Nam, requiring sectors and localities to be ready at the highest level to cope with.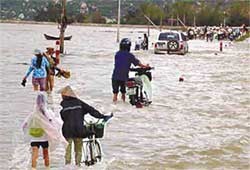 Decreasing influence of natural desasters is really an urgent matter of Viet Nam
In the past five years, natural disasters increased in comparison with the period 1996 – 2000. The damage caused by storms decreased; however, flood tends to take its toll on human life and property. Inadequate awareness of people can be a factor; besides, some local authorities did not take bold measures to cope with disasters.
Meanwhile, the construction of many industrial zones, tourism spots, urban areas of coastal and mountainous regions and residential areas has failed to take flood prevention and safety insurance into account.
Addressing a conference to review the flood and storm control and rescue operations in the 2001-2005 period in Ha Noi on April 3, Deputy Prime Minister Nguyen Tan Dung underlined the serious consequences of natural disasters in the period, with 1,857 people dead and missing and a total loss of VND13.5 trillion (US$849 million).
Deputy PM asked sectors and localities to take disaster preparedness measures as a regular task to minimize damages while conducting socio-economic development programs.
He called on the Central Steering Committee on Flood and Storm Control to quickly draw a plan of reinforcing sea and river dykes and related projects.
On the sideline of this conference, Sai Gon Giai Phong Reporter talked with Chairman of Central Steering Committee on Flood and Storm Control Le Huy Ngo about disaster prevention in the time ahead.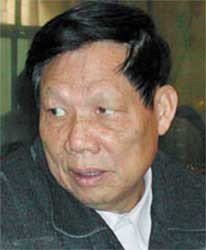 Mr. Le Huy Ngo
Mr. Le Huy Ngo said that one reason for the increase of flood is that the country have not been not well-prepared for it. For instance, in 2005, while we focused on storm control in coastal areas, flood hit the northern province of Yen Bai, killing 30 people.
Answering a question on the solutions to cope with flood and landslide, he said that these natural phenomena usually happen in locally; therefore, local authorities should install devices to measure rainfall in some main mountainous and riverside areas. If the rainfall exceeds 100mm, residents should be evacuated to safe places. In the long term, he asked scientists to survey geological features of these areas to prepare disaster prevention measures.
Relating the work of relocating 20,000 households from dangerous zones, he said that at the moment, many households in the most dangerous areas have been moved to the safer places. The work will be continued until 2010; land and capital will be supplied to farmers to help with their means of living.