Metal pieces similar to materials that are traditionally used to make bombs were found among debris at the scene of an explosion that killed four and injured 10 in the Van Phu urban area in Hanoi's Ha Dong district on March 19.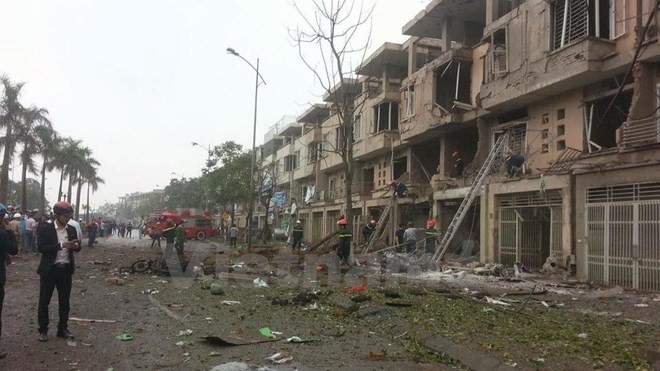 The explosion damages 36 houses and broke glass, walls and doors of another 95 houses nearby (Photo: VNA)
Hanoi police revealed the information on March 20 as they announced the initial outcomes of investigation into the explosion, which occurred in front of house No. 15 – TT19 in the Van Phu urban area, Phu La ward, at 3:10 pm on March 19.
The owner of the house was Pham Van Cuong, born in 1975 in Nam Truc district of the northern province of Nam Dinh, who rented the house from 2013 to use as a waste-metal storage site. He often used a blowtorch to cut scrap metal into smaller pieces for sale.
At around 8:30 a.m. on March 19, Cuong asked a young man living nearby help him bring a rusty iron cylinder to the pavement in front of the house, according to witness testimony. The cylinder was between 40 and 45 cm in diameter, 80 cm in length and weighed 100kg.
Cuong used a blowtorch to cut open the object, which ignited the blast.
The explosion damaged 36 houses. Another 95 houses near the scene had their glass, walls and doors broken.
Colonel Duong Van Giap, head of the Hanoi Department of Public Security's police office for investigation of social order-related crime, said investigators at the scene collected many iron and cast-iron pieces.
Preliminary examinations showed that the explosive that caused the blast is also the type usually used to make bombs and mines.
The case is still under investigation.