Since early this year, escalating prices of goods have driven people to tighten their belts and cost cut, particularly on non-essential items.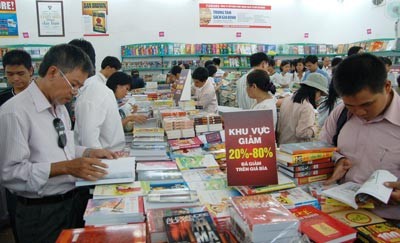 Readers at a bookstore in Ho Chi Minh City (Photo: SGGP)
Items such as books and publications are severe casualties of people spending. Nguyen Minh Nhut, director of Tre Publishers said that with increased prices, paper and ink have also become more expensive. Publishers and bookstore owners are finding it difficult to share this burden with book readers. He added that publishers are calculating ways to increase the price of books without affecting the purchasing power of readers.
 
Cao Xuan Son, a representative of Kim Dong Publishers in the south said since the beginning of the year the price of paper has increased three times. Material prices have increased so rapidly that the publishers were unable to modify the book prices.
 
Other publishers are facing a similar situation. They are trying to maintain a stable price on books so as not to affect customers.
 
Customers hesitating to buy books
 
Unlike publishers, booksellers are facing lesser problems from the pressures of increased prices.
 
Pham Minh Thuan, director of PHS Joint Stock Company said since petrol prices increased, paper prices have also increased and so have printing prices. However, most books currently in bookstores were published before the price hike, therefore book prices must remain the same.
 
Thuan said that if prices continue to increase until May and June, publishers would increase book prices, which will surely affect readers and book purchasing will reduce substantially.
 
Luong Anh from Go Vap District said that earlier she spent VND200, 000 to buy books for her children every month, but now she had cut down on that expense. She only spent on the very important books such as schoolbooks and writing books for her children.
 
Comic books are favourites of children but now parents do not buy them and are choosing to rent comic books or read e-books online.