More than 460 participants at a Thursday conference in Da Nang City discussed ways to further boost the development of Viet Nam's central region, and infrastructure and human resource development took center stage.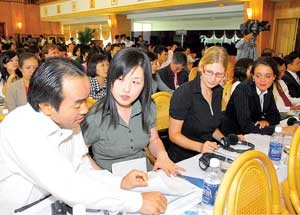 Participants at the conference, co-held by Sai Gon Giai Phong newspaper and the Ministry of Planning and Investment (Photo: SGGP)
The participants included investors, scientists, administrators and policymakers. Many investors were interested in human resource development programs for the development target, and in development plans for the region's infrastructure, as well as central provinces' investment incentives.
Sai Gon Giai Phong newspaper and the Ministry of Planning and Investment co-organized the conference. Sai Gon Giai Phong Editor-in-chief Tran The Tuyen said the main purpose of the event was to introduce new solutions to enhance investment into the region for the development of infrastructure, logistics, personnel, heath care, tourism and some other areas in order to help the region take off.
Investors paid close attention to the presentation by Mr. Truong Dinh Hien, senior researcher at the Ho Chi Minh City Institute of Physical Oceanography, about developing a seaport system in the region. He said the establishment of Dung Quat Deepwater Port and Dung Quat Economic Park in Quang Ngai Province set a foundation for the establishment of a regional focal economic area from Lien Chieu District of Da Nang down to Dung Quat.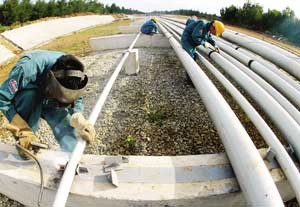 Workers of Lilama 18 Company install oil pipes at Dung Quat Refinery being built in Quang Ngai (Photo: SGGP)
Mr. Hien said in the initial period Dung Quat would focus development of heavy industries, and light industries and trade would follow.
A preliminary conclusion from his was the development of regional seaports would be followed by urban and economic areas along the coast, and this direction is suitable for the region.
Regarding infrastructure development, Mr. Tran Du Lich, head of the HCMC Economic Institute, said an important thing to do now is to rapidly improve roads, highways and railways to further facilitate the transportation of goods from the manufacturers and suppliers to the market.
However, Mr. Lich said it is not advisable for any central province to build a port or an airport because if this is a case, it will be a waste.
An investor said building a seaport is much easier than exploring it effectively. In order to use ports efficiently, effective partnership with marine transportation firms is a must, said the investor.
Mr. Truong Tan Vien, chief of the Planning and Investment Department of the Ministry of Planning and Investment, delivered a presentation on communication infrastructure development in a near future. The roadmap includes improving National Highway 1A, Ho Chi Minh Road, coastal roads, and roads linking Vietnamese ports with major border gates connecting Cambodia and Laos, and building new express ways.
Mr. Vien's presentation also mentioned ways to finance the projects, and investors paid special attention to this. Therefore, many group meetings followed for more discussions of this issue.
Regarding personnel development, Dr. Bui Van Ga, Director of the National University Da Nang, said the central region has various universities, colleges and vocational schools that can meet the demand in terms of quantity. However, the quality of training remains a problem. Another weakness, according to Mr. Ga, is the shortage of training partnership with international organizations and institutions, and this problem is also a nationwide difficulty.