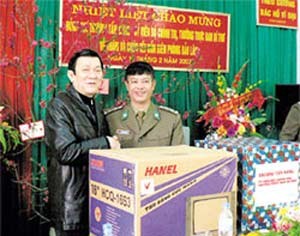 Mr. Truong Tan San gives gifts to a soldier guarding in the Lang Son border province.
The northern province of Lang Son should better utilize its location on the border with China to improve relations with them, said Politburo member Truong Tan Sang during a pre-Tet visit to the province.
Mr. Sang, who is also a permanent member of the Secretariat of the Central Committee of the Communist Party of Viet Nam, led a delegation yesterday to the border province of Lang Son to visit local residents and armed forces personnel there and pass along his best wishes for the upcoming Tet holidays.
Speaking on the tour, Mr. Sang stressed the importance of improving the lives of the province's ethnic minorities, saying that, "In the long-run, we must create favorable conditions for ethic groups in the border region to develop businesses there, while at the same time consolidating relations between Viet Nam and China, ensuring that both sides will develop and prosper."
Later, after listening to a report detailing the implementation of the 10th Party Congress Resolution in Lang Son, he urged the people there to put their best efforts forward in the coming year to carry out the resolution's key tasks of national defense and political and socio-economic development.
Lang Son, a mountainous province in northern Viet Nam, shares a 253km border with China, and is home to three border crossings at Tan Thanh, Chi Ma and Huu Nghi. The province's 8,305 square km area is also well connected to the rest of Viet Nam by roads, rail, and waterways.