Fifteen-year-old Le Van Duoc, a ninth grade student from Thanh Ngoc Secondary School in Thanh Chuong District in the north central province of Nghe An, has been praised for his brave action in saving the lives of five children from drowning on June 17.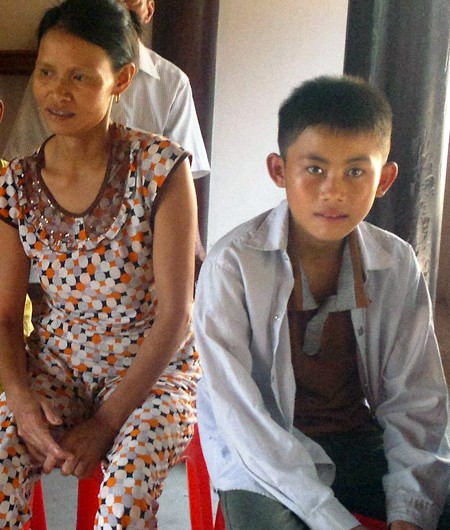 Le Van Duoc (R)
The Department of Education and Training and the Ho Chi Minh Communist Youth Union Committee in Thanh Chuong District visited and commended him on June 19.
On the afternoon of June 17, Duoc heard some children call out in distress for help from the Gang River, while he was tending his buffaloes nearby.
Duoc immediately screamed for assistance from other people but no one heard because they were too far away.
He alone plunged into the river, where five girls were being pulled into a current while catching mussel. He swam to and fro and pulled them all ashore.
The five girls are from the same commune as Duoc--Ngoc Khanh Commune. They are 13-year-old Trinh Thi Hau, 12-year-old Nguyen Thi Uyen Nhi, 13-year-old Nguyen Thi Phuong, 10-year-old Nguyen Thi Tu and 13-year-old Nguyen Thi Trang.
Authorized organs in Thanh Chuong District have proposed higher authorities to commend and reward Duoc.
In early May, a 12th grade student named Nguyen Van Nam passed away after saving five children from drowning in Lam River in the same province.
Related article:
President extends condolences to brave student's family