According to Le Van Quyen, chairman of the People's Committee in Dakrong District in the central province of Quang Tri, a section of the newly built Dakrong 3 Hydropower Plant dam has burst, flooding nearby farm areas and vegetable crops.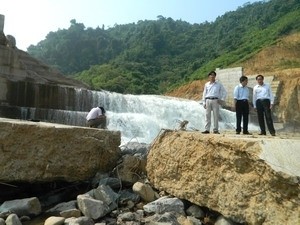 Authorities from Quang Tri Province survey the breach in Dakrong 3 Hydropower Plant dam (Photo: VNA)
Tran Quang Chien, secretary of the Party Committee in Dakrong District, said that the dam breached on October 7 but Truong Son Hydropower Company, the main investor, concealed this fact instead of reporting it.
Nguyen Van Bai, director of the provincial Department of Agriculture and Rural Development, said that there is no specific data on damage caused by the dam breach.
Initially, floodwaters overflowed into residential areas in Ta Long and Dakrong Communes in Dakrong District and swept away several tons of farm produce and vegetable crops.
The People's Committee of Quang Tri Province has inspected the dam area and is discussing the best way to repair the damage.
The committee has asked the plant's investor to work with local authorities and be ready to evacuate residents to safe areas in case the dam breach broadens.
Construction of the 8MW Dakrong 3 Hydropower Plant began in November 2010 at a cost of VND210 billion (US$10 million). The Truong Son Hydropower Company from the neighboring province of Quang Binh is the main investor of the plant and the contractor is the Tan Hoan Cau Company.
Ho Van Vien, chairman of the People's Committee in Ta Long Commune, said that the investor has not reached any agreement with 13 households located in the reservoir area on compensation and resettlement matters.
The dam breach completely destroyed farm crops of these households, and although the incident occurred a week back, the investor has yet to visit the affected people.
Authorized organs in Quang Tri Province have begun to investigate the quality and safety of the plant.