Authorities in Ho Chi Minh City had realized the potential of ornamental fish breeding and had taken strong measures to convert this into a viable agricultural produce in early 2000, but now with more agricultural firms moving towards non-staple crops it is time to pay more attention to this sector.

City has favorable climate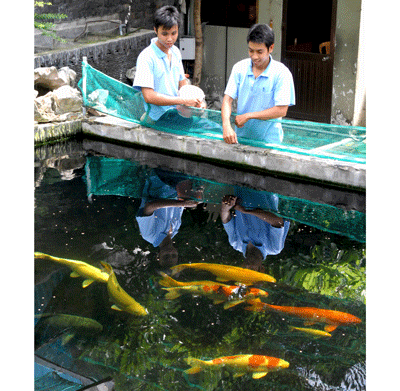 Japanese Koi fish being bred by the Hai Thanh Company (Photo: SGGP)
Ho Chi Minh City has many skilled and experienced ornamental fish breeders since pre-1975. They have been successful in breeding and crossing exotic varieties of fish with local species.
In addition, the city has a favorable climate and water canals that can be a natural source for breeding various fish species.

Since HCMC has been a pioneer at breeding ornamental fish and bonsai plants this should remain a mainstay for the people rather than rice as it brings in higher profits on the same measure of land.
The city has issued many policies to help companies in this field, including preferential loans and setting up of zones for breeding of fish.

HCMC has given 500 hectares of land for breeding ornamental fish in Cu Chi District and an additional 500 hectares in Binh Chanh District.
It has also established trade centers for agricultural produce in Cu Chi District and an Ornamental Fish Club since 2004.
However, there have been hiccups such as compensation for land clearance and capital money; hence many companies aborted their plans as they did not want to wait anymore.

Breakthrough needed

Since 2006, the city has seen an average growth of 20 percent in this sector. The HCMC Department of Agriculture and Rural Development have 283 companies engaged in ornamental fish breeding, a three times increase compared to early 2000s.
 In 2011, the city exported 8.6 million varieties of ornamental fish, reaping a profit of $12 million.
However, to achieve the target of exporting 100 million varieties of fish and a turnover of $30 million by 2015, a major breakthrough in this field is required.
In 2006 a promotional festival in this sector was hugely successful, attracting a great deal of attention from fish breeders. However, the sizes of the latter festivals have decreased and now no festival is being organized as there is no cooperation with breeders and the government.