Railway stations in Ho Chi Minh City's neighboring provinces of Dong Nai and Binh Duong have been overloaded with a huge volume of cargo after Ghenh Bridge, the key bridge in the North South railway, collapsed after a collide by a barge in Bien Hoa city.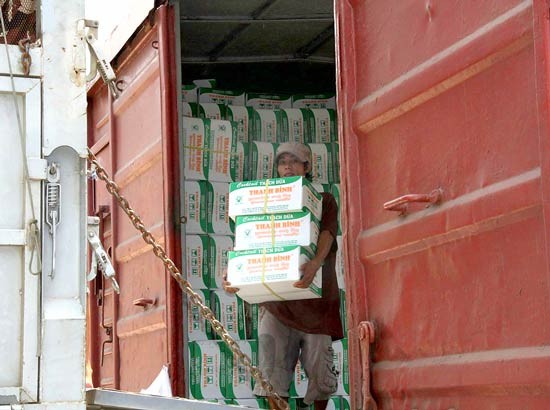 A worker carries cargo boxes from a train to trucks at Song Than station (Photo: SGGP)
The accident has interrupted the railway's stretch from Dong Nai to Ho Chi Minh City and caused damage to cargo transport firms. Song Than station in Binh Duong and Ho Nai station in Bien Hoa have to handle a huge volume of goods far exceeding their capacity now.
Head of Song Than station Tran Thi Cu said that the station received over 13,000 tons of goods with five incoming and five outgoing trains  a week. The bridge collapse causes the station a loss of VND1.2 billion (US$54,000) a day.
Ho Nai station has seen hundreds of trucks waiting in a long queue to deliver and receive goods for the last two days. However the station's internal road and yard system is unable to meet the increasing demand. This has lengthened departure time of trains from half an hour to an hour, retarding goods delivery schedule of businesses.
According to Vietnam Railways, the cargo handling capacity of Ho Nai station is 1,400 tons while the demand has rocketed to 4,900 tons, resulting in a standstill.
It will take 20 days to install more rail tracks for goods loading and unloading at Long Khanh, Trang Bom and Ho Nai stations in Dong Nai. At that time, they will be able to handle 3,500 tons of cargo accounting for 70 percent of normal demand.
In related news, leaders of Phan Thiet railway station in the central province of Binh Thuan announced that all trains from and to the station will temporarily stop operation from March 22 because of the Ghenh Bridge collapse.
The station mainly serves trains in two routes HCMC-Phan Thiet and Phan Thiet-Nha Trang city.
The halt will affect to tourists' travel as well as cargo transport to Binh Thuan Province.