Prime Minister Nguyen Tan Dung told the relevant government ministries on Thursday to determine the cause or causes of the Can Tho Bridge collapse without delay and report back within a month.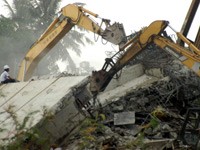 Rescuers comb through the wreckage of Can Tho bridge to find the last victim (Photo: NLD)

The PM, who had just returned from overseas, gave the command at a meeting in Ha Noi with the ministries of Public Security, Transport, Construction, and Planning and Investment, and the Government Office.

He announced the formation of a national investigation committee and said it had to make a formal announcement about the causes of the accident in one month's time.

As he reminded the ministers, the bridge collapse, which left 53 dead, 80 injured and one still unaccounted for, was the country's worst construction accident ever.

The Ministry of Transport was told to check alternate designs and construction methods for the entire project before resuming work on Can Tho Bridge.

Accepting personal responsibility for the tragedy, PM Dung urged ministries and agencies to intensify their efforts to recover the remaining bodies, treat the injured and support the victims' families.

On the same day, Japanese Ambassador Norio Hattori conveyed his deepest sympathies to the families of the bereaved.

Mr. Hattori said his government would do its utmost to ensure that the accident would not affect its ODA commitments and that it would continue to offer support to the victims and their families.

The ambassador pledged to send Japanese specialists to Viet Nam to work with the investigation committee and with other Vietnamese authorities looking into the bridge collapse.
Related articles:
Two More Bodies Found in Bridge Rubble
Can Tho Bridge Case to Be Prosecuted
Investigation into Bridge Collapse Underway
Investigators Divided Over Cause of Bridge Collapse
Memorial Service for Victims of Can Tho Bridge Collapse
Leaders Urge Nation to Support Victims of Can Tho Bridge Collapse