On the cause leading to the collapse of Can Tho bridge, suspicions about its construction and design were logical, suggested the Minister of Transportation, Ho Nghia Dung, in a press conference yesterday.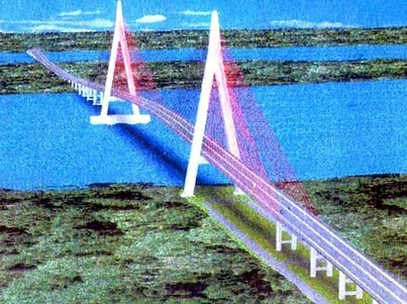 The Can Tho Bridge model
The Minister also agreed that opinions in a letter sent to the contractors by a Japanese engineer in the supervisory group were absolutely reasonable. "The contractors have received the letter, but we have to wait for the investigation results to know how to respond", he said.
On his role in the disaster, the minister said in the conference that he was responsible for the state management on the bridge collapse. He stated that "The commission will conclude the reasons for the collapse and identify how much responsibility I had for the collapse. At that time I will be ready for the consequences". The Minister diffused his responsibility by adding "However, advisors sections of the ministry also must be responsible for the accident".
According to the minister, the ministry will systematically check the procedures from preparation to the carrying out of the project's investment including the technical design, contractor selection, sub-contractor management, and even the labor contracts with workers of the sub-contractors.
On the minister's responsibility in the collapse, vice chief of the government office Tran Quoc Toan said that the Government would consider the responsibility of Minister of Transportation Ho Nghia Dung, and allocate the appropriate actions, after finishing the investigation.
On the same day, Viet Nam's Prime Minister Nguyen Tan Dung signed a document that approved a decision to set up a national commission to investigate the Can Tho Bridge collapse. He asked the commission to report the investigation results within one month of the investigations commencement.
Related Articles:
Bridge Collapse: PM Demands an Answer
Two More Bodies Found in Bridge Rubble
Can Tho Bridge Case to Be Prosecuted
Investigation into Bridge Collapse Underway
Investigators Divided Over Cause of Bridge Collapse
Memorial Service for Victims of Can Tho Bridge Collapse
Leaders Urge Nation to Support Victims of Can Tho Bridge Collapse