A new bridge over Dong Nai River was opened to traffic on July 4, in addition to starting the construction of a tunnel and a flyover at Tam Hiep junction and a flyover at Amata intersection on National Highway 1A of the province.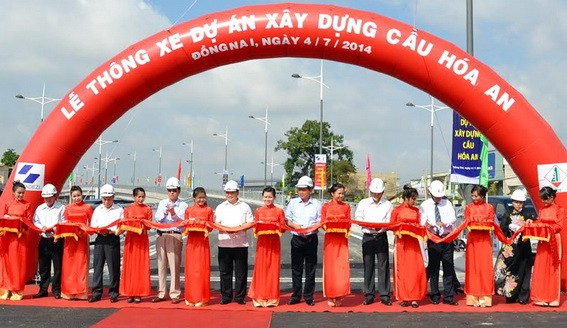 At the inauguration ceremony of the new bridge ( Photo: Sonadezi)
At the inauguration ceremony, Deputy Prime Minister Hoang Trung Hai said that the bridge and the tunnel in the junction are important construction in order to help ease traffic gridlocks as well as connect Dong Nai Province with other major economic regions in the South for socioeconomic development.
The deputy PM asked the contractors to ensure the quality and progress.
The new bridge named after the place where it is located. The three-lane bridge spanning Dong Nai River with the length of 1.3 kilometer, the width of 16.5 meter was built by Sonadezi under the build-transfer contract. The bridge with load carrying capacity of 30 tons costs VND1,174 billion (US$55.9 million).
The heavily reinforced concrete four lane tunnel at Tam Hiep junction at Amata intersection on National Highway 1A will be done in eight months and the four lane flyover is scheduled to open in early 2015.