The mainline bridges have helped improve the traffic system in the Mekong delta which is undergoing a vigorous change in the modernization and industrialization.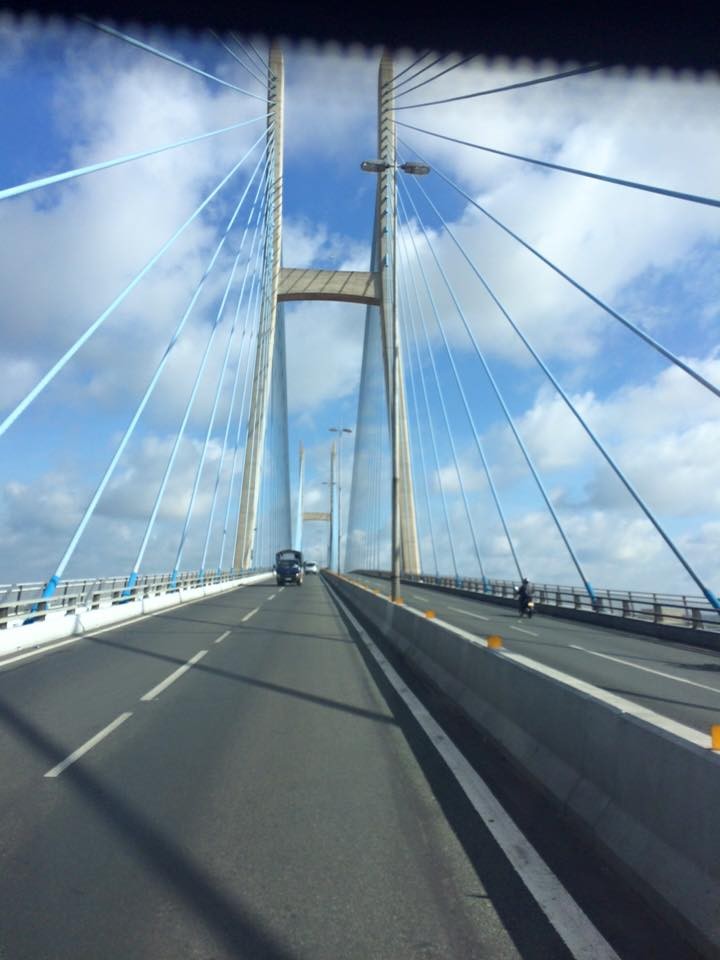 The cable-stayed My Thuan bridge spanning the Tien river is spuring the Mekong delta's socio-economic growth(Photo: U. Phuong)
The most important bridges are My Thuan Bridge spanning the Tien river and Can Tho bridge spanning the Hau river. The two cable-stayed bridges My Thuan and Can Tho were officially opened to traffic in 2000 and 2010 to mark the greater change in traffic development in the region.
The two bridges are also paving the way for the region's growth and they are for-ever wishes of million residents there.

At his grapefruits orchard, 76 year old farmer Nguyen Van Day in My Hoa Commune in Vinh Long Province's Binh Minh Town, eagerly said ;"
These new bridges helped farmers a lot. Before the My Thuan Bridge was built, it took one day to transport fruits and commodities to Ho Chi Minh City and the South East Vietnam on Tet holidays.
Now, after 3 or 4 hours fruits and commodities can be displayed in Thu Duc wholesales markets or supermarkets as trucks travel through the My Thuan Bridge and Trung Luong-HCMC highway.

Party secretary Tran Van Ron said that he just had received a teams of investors from Holland who wanted to promote animal feed factory and modern aquatic farms for the whole Mekong delta.

Before, the province leader had received a group of US investors who planned to build a fruit processing factory in the Binh Minh Industrial Park. The province has called for investment in the project for years yet there has been no response.
US investors said; "They decided to choose Vinh Long province as in addition, the province's investment environment is improved and competitiveness index is high; the province's traffic infrastructure is specially convenient to transport the commodities from Vinh Long province to Ho Chi Minh City, the South East region or other provinces in the Mekong delta.

At present, the Hoa Phu Industrial Park of Vinh Long has more enterprises accordingly the schedule for the first phase is completed and it is on good development for the second phase. Meantime, the Binh Minh Industrial Park is very potential as it is near Can Tho Bridge. Vinh Long Province in cooperation with the Ministry of Transport is liaising to build entrance into the park to facilitate enterprises as well as attract more investment.

After years of waiting, inhabitants in Ben Tre Province were excited at the inauguration of Rach Mieu Bridge in the highway No.60 over the Tien River on January 19, 2009. Director of the Department of Planning and Investment Nguyen Truc Son said that the bridge helped connect Ben Tre and other provinces catching local and foreign investors' eyes.
Additionally, tourism in the province grows more. From 2010 to now, over 1,300 new enterprises were established; 55 projects of domestic businesses and 24 foreign direct investment (FDI) projects were licensed.

Especially, owners of large orchard gardens in Oc islet in Hung Phong Commune quickly have taken advantage to convert their houses into tourist destination.
76 year old farmer Do Thanh Thuong, considered as king of Coconut in Oc islet said that; "I am the first person in the commune to turn my 2 hectare coconut garden into tourist destination to receive holidaymakers. At first only a few visitors came to my garden yet now many of them came to the garden especially in Tet holiday."
In his coconut garden visitors will have chance to drink 20 various kinds of coconut which he collected from many corners of the country and planted in the garden.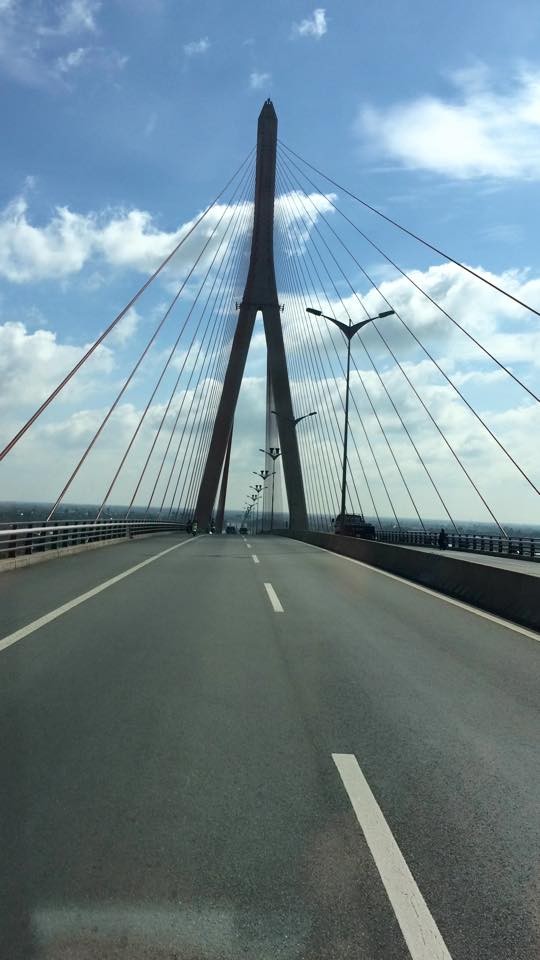 The Can Tho bridge (Photo: U. Phuong)
Currently Ben Tre province is calling for investment to build an ecotourism zone in Oc islet with estimated capital of US$30 million.

After the Co Chien bridge in the highway No.60 connecting two provinces Ben Tre and Tra Vinh was officially opened to traffic, there has been excited working atmosphere in construction site of Cao Lanh bridge spanning the Tien river connecting Cao Lanh district and Lap Vo district of Dong Thap province and the highway No.80; Vam Cong bridge in the highway No.80 spanning the Hau river connecting three provinces of Dong Thap, Can Tho and An Giang.
Leaders of the Ministry of Transport regularly check the construction speed and quality, safety to soon open to traffic.

Duong Minh Tuan, director of Cuu Long Corporation for Investment, Development and Project Management of Infrastructure, said that Vam Cong Bridge is one of part of a project to connect the heart provinces of the Mekong delta.
The project has the length of 78 kilometer through provinces including Long An, Dong Thap, An Giang and Can Tho city.
It is one of the most vital projects conducted by the Ministry of Transport to link provinces in the West region of the Mekong delta and becomes the second lifeline traffic axis in addition to the highway 1 A.

Le Minh Hoan, Party secretary in Dong Thap province said that the Cao Lanh Bridge and Vam Cong Bridge operational in 2017 will spur the socio-economic development for not only Dong Thap province and Can Tho City but also the whole region.
Especially when the bridge opens to traffic, it will help inspire the potential of Dong Thap Muoi region and Can Tho Airport and Cai Cui harbor.

At present, the Dai Ngai Bridge spanning the Hau River connecting Tra Vinh and Soc Trang provinces. The bridge will be a lifeline bridge in the highway No. 60 and it is hoped to help exploit the strength of provinces in the South of Mekong delta including Tra Vinh, Soc Trang, Bac Lieu and Ca Mau.
In 2014, the Mekong delta's economic growth reached 8.98 percent with the yield of rice of 25.4 million tons per year; tra catfish estimated of over 800,000 ton and shrimp of 449,000 tons. Additionally, industrial production increased 11.9 percent compared to 2013; total import-export turnover of more than US$15.2 billion; total retail and service turnover of over VND561,000 billion (US$25 billion), collecting nearly VND38,000 billion (US$1.7 billion) for the state budget, per capita income of VND39 million (US$1,736) a year close to the country's average.
The number of employed people is 387,200 and the rate families whose economic condition on poverty line decreased to 5.6 percent. Especially per capita income of inhabitant in Can Tho city is VND69 million (US$3,072) a year.