Each year the Consular Club creates the key event in order to raise funds for its year round charitable activities. In 2015 the 22nd International Charity Bazaar that will take place on November 28 is considered as this year's large-scale festival.
Alesia Malchow, President of the Consular Club Ho Chi Minh City said the club is a non-political and non-profit organisation. Members of the club come from various foreign consular missions in Ho Chi Minh City. "At the moment the club has got 34 members from 20 different countries. All members are volunteers and dedicate their time for improving the quality of life of people in need, particularly in the Southern Vietnam".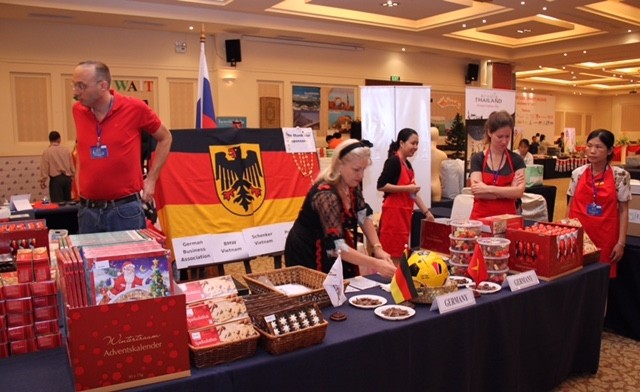 Germany country table at International charity Bazaar in 2012.
Each year the Consular Club creates his key event in order to raise funds for its year round charitable activities. In 2015 the 22nd International Charity Bazaar will take place on November 28, at the White Palace Convention Centre, 194 Hoang Van Thu Street, Ward 9, Phu Nhuan District. The bazaar will begin at 9:30am and run until 2:00pm. "We hope to create a nice and enjoyable atmosphere for all visitors", said the President.
People will have the occasion to purchase a wide range of international goods and foods or to buy tickets for a raffle draw for 50,000 VND each. The raffle offers a lot of valuable prices including two Tissot watches from Switzerland (value 5 Mil. VND each), vouchers for deluxe resorts and hotels in many famous locations throughout Vietnam, spa packages, lunch or dinner vouchers in luxury restaurants in Ho Chi Minh City and much more. Every price in the raffle has a value of at least US$100.
Entry tickets cost 100,000 VND for adults, children under 10 accompanied by an adult are allowed to enter free of charge. A Santa Claus will be there to breathe the festive atmosphere of Christmas into the event. Children and adults alike could have taken their photo with Santa Claus. "We expect this year's bazaar to attract more than 2,000 visitors, both foreigners and Vietnamese", added President Alesia.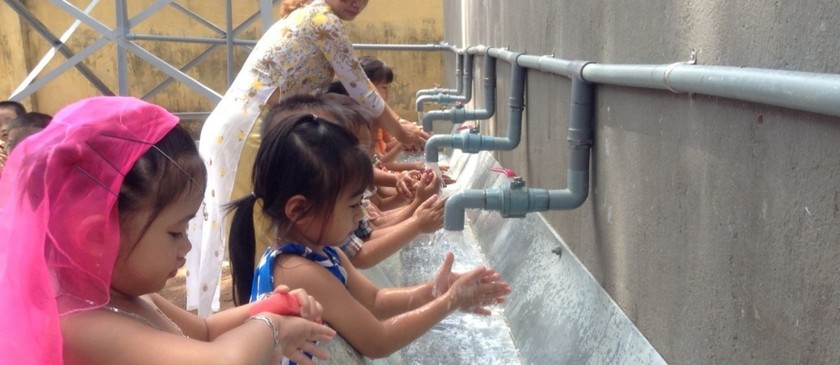 One of clean water projects launched by the consular club
This year's event continues the tradition of past International Charity Bazaars' – selling goods and foods from all over the world for a good cause. Proceeds of the 22nd International Charity Bazaar will be used for helping Vietnamese people in need. Total funds raised at last year's Charity Bazaar reached nearly VND 2 billion. Projects supported by the Consular Club through funds generated from the Charity Bazaar range from medical care, to educational support and basic needs "like the access to safe drinking water and sanitation, which was also recognized by the United Nations General Assembly as a human right in 2010", the President stated.
As many as 14 charity projects have been launched since the beginning of this year. Many disadvantaged people have received the support from the club. For instance, the Consular Club gave 30 beds and 30 mattresses to the An Thanh Nam Humanitarian Medical Center early this year. The club took over the costs of cement tanks for raining water and Sawyer Filters for people in remote areas without an access to clean water. The club also supported the Eye Care Foundation in their project for disadvantaged children and elderly people in four provinces in Southern Vietnam by providing financial aid for the training of school nurses, instruments and spectacles, aiming to lessen uncorrected refractive errors and control the avoidable blindness.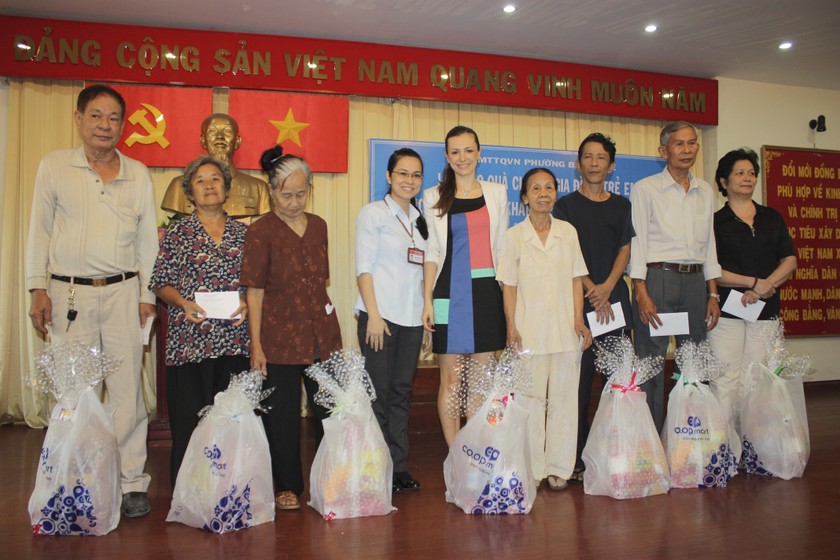 Alesia Malchow -President of the Consular Club (middle) at a program titled bring Tet gifts to the poor in HCMC.
"We try to identify projects where we can assist in a very simple and effective way. A good example is the Eye care project where people sometimes only need some glasses to improve their quality of life. It is not always easy to find out the real need of people. Therefore we try to visit the projects supported by the Consular Club, even in remote areas, in order to meet with the beneficiaries and to understand local people's difficulties", Alesia said.
The funds which will be raised at the bazaar this year will be used for projects in 2016 and the club's members will continue their mission: "Bring a better life to the poor".