World-famous spelunker Dr. Howard Limbirt said April 10 his team had discovered a new 2km chamber in Vietnam's Son Doong cave, the largest in the world.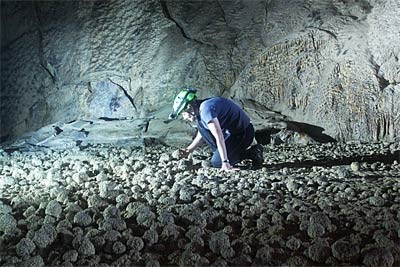 A researcher inspects gemstones in the newly discovered chamber of Quang Binh Province's Son Doong cave, the largest cave in the world (Photo: SGGP)
The new section has bigger dimensions than the first area discovered last year by the British Cave Research Association, led by Dr. Limbirt.
 
Part of the Phong Nha-Ke Bang grotto system in the central province of Quang Binh, the cave's newly discovered section measures over 200 meters wide and 200 meters high. In some sections, it reaches up to 250 meters tall.
 
The largest section of the grotto discovered last year was 200 meters wide and 150 meters high. The research team's 2009 investigation was limited by flood waters, however, so they returned this year to study Son Doong further.
 
The researchers also found a large expanse of stalactites, outcrops and valuable, rare gemstones during their latest exploration.
 
Three new species, a fish, spider and myriapod, were also found in the cave system.
 
Son Doong was first discovered by a local man named Khanh in 2008 but only since the British team's exploration of the cave in April 2009 was it recognized as the world's largest.
 
It is located below another cave in Phong Nha-Ke Bang with an entryway that is difficult to traverse.
 
The Phong Nha-Ke Bang grotto system is part of Phong Nha-Ke Bang National Park. It is a limestone region of 2,000 square kilometers, which borders another limestone area in Hin Nammo, Laos.
 
Only 20 of Phong Nha-Ke Bang's 300 caves and grottos, with a combined length of about 70 kilometers, have been surveyed by Vietnamese and British scientists.
 
Dr. Limbirt has been conducting explorations of Vietnamese cave systems since 1997.