Prince Andrew, Duke of York, the UK, said Viet Nam is one of the most successful countries regarding socio-economic development as well as the use of official development assistance.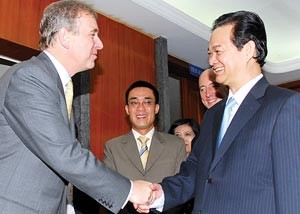 Prime Minister Nguyen Tan Dung (R) greets Prince Andrew in HCMC Tuesday (Photo: SGGP)
The visiting prince, who is also a special representative for the UK's international trade and investment, made the remark while meeting with Prime Minister Nguyen Tan Dung in Ho Chi Minh City on September 9.
During the meeting, PM Dung said he was delighted that the prince focused on the two governments' top priorities, including trade-investment and education-training cooperation, during his visit.
"The visit will contribute to fostering bilateral relations between Viet Nam and the UK," the PM added.
He agreed with the prince's assessment on the importance of boosting education-training cooperation between the two countries, including facilitating UK universities' operation in Viet Nam and training English language teachers for the Southeast Asian country.
Education is the Vietnamese Government's great concern, the PM said, stressing the need to create favorable conditions for Vietnamese students to access advanced education systems.
For trade and investment, he affirmed that his government will join efforts with the UK government to boost cooperation.
In the future, with appropriate economic development measures, including those to curb inflation, which are on the right track, Viet Nam will continue being a country with socio-political stability and high economic growth, the PM said, adding that this will be a convenient condition for British businesses to operate in Viet Nam.
The PM expressed his wish that the prince will further support Viet Nam and encourage British businesses to invest in the country, as well as create favorable conditions for Vietnamese commodities to enter the UK market.
Prince Andrew cited British businesses he met during his visit as saying that Viet Nam has potentials in various areas and that they commit to long-term investment in the country.
He said he wanted the Vietnamese Government to facilitate financial and investment cooperation between the two countries as well as operations of British educational institutions.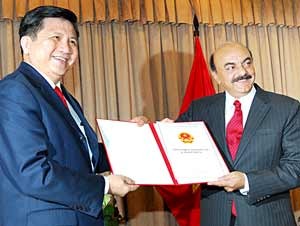 State Bank of Viet Nam Governor Nguyen Van Giau (L) hands over a license to Standard Chartered Bank CEO Ashok Sud in HCMC Tuesday (Photo: SGGP)
After the meeting, PM Dung and Prince Andrew witnessed a function where the State Bank of Viet Nam handed over licenses to set up wholly foreign-owned banks to HSBC and Standard Chartered. The two British firms can operate locally as commercial banks.

HSBC already operates in Viet Nam, but setting up a fully owned local bank will allow it to open more branches and offer more products, a spokesman for the bank said.
HSBC recently received permission to increase its stake in one of Vietnam's largest private banks, Techcombank, from 14.4 percent to 20 percent.

Standard Chartered Bank is already a strategic partner of Viet Nam's Asia Commercial Bank (ACB) and recently increased its stake in the firm to 15 percent, the British bank said.