For the first time, Ho Chi Minh City residents have an opportunity to be charmed by the world-famous Broadway musical "Annie Get Your Gun". Director Brian Riedlinger, who also appears onstage in the musical, talks to SGGP about the enormous task he set for himself.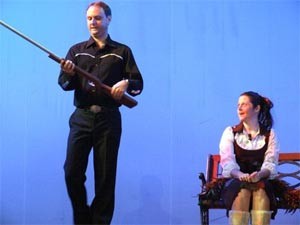 Brian Riedlinger (L) acts with Kim Davis in a scene of the Broadway musical (Photo: Bee Shortland)

This is the first time you have brought a Broadway musical to Vietnam, in particular to Ho Chi Minh City. So why and when did the idea come to you?



I have been here for four-and-a-half years and have been thinking about it since I discovered that no one had done it before. A lot of foreign people miss this form of entertainment and I thought Vietnamese people who understand English would like it as well, so I decided firmly to do it about one-and-a-half years ago.
 
Why did you choose "Annie Get Your Gun" as your debut product for the Broadway musical?

The modern Broadway musicals are too musically demanding for the people I have here. Most of the older Broadway musicals have a high soprano as the female lead. I don't currently have a soprano who could handle a big part like that, so I knew I needed to choose a show with an alto leading lady.  I knew that I had someone good who could play the part of Annie (Kim Davis) so that is why I chose this show.
 
Would you like to share with us a little about the preparation and training on stage?

We started rehearsing with the principle actors last March and just worked on blocking and characters for about two months, twice a week.  Then we stopped for the summer and started again in September.  Since then we have had rehearsals with the actors two times each week.  The chorus has rehearsed once a week - until the final two weeks when it was three times. The dancers have been rehearsing three times each week and the orchestra two to three times each week as well. In addition, people like Allyson Keane, Amaury Le Blan, Sherry Groen, and Emily Huckson have put in countless hours on promotion and backstage production of the show. A lot of people have put in a great deal of time to make this show possible.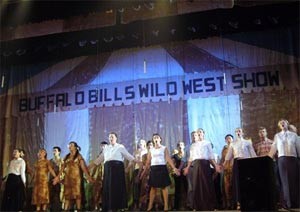 The chorus performs together in a scene on stage (Photo: Bee Shortland)

We always know that Broadway musicals are very famous but they're quite new to us. Can you explain more about the Broadway musical?



Typically a Broadway musical refers to a play that is a combination of acting, singing, dancing and comedy.  They are sometimes also called musical comedies.  They first started in New York in 1866 and have been going ever since.
 
Did you meet any difficulties while preparing the costumes, scenes on stage, lighting or anything else?

There are always difficulties in preparing a big show like this. For the director, working with so many people - about 100 performers and 15 people working behind the scenes - is always a challenge.  As director of the show I have to make sure that everyone is working to fulfil my vision of what the show should be.  Sometimes it can be frustrating when people don't do what I want. I have to work with everyone to get their best.
 
What was your experience when the show debuted on November 21? I mean the feedback of the audiences, the emotion of the actors/actresses, etc...

We didn't have the orchestra with us for the final dress rehearsal, so everyone was a bit nervous about what would happen on opening night, but it went much better than I expected and the audience enjoyed themselves.
 
I heard that, through this play, you and your company want to promote a new Vietnamese actor Le Anh Huy. So why did you choose him to appear in your play? And if possible, would you like to have some comment about his performing?

I have known Le Anh Huy for several years.  I knew that I wanted him to have a role in the show and this part seemed perfect for him.  I think it was a challenge for him and he was a bit nervous about the acting (he has been a singer before but not an actor), but he has done a fine job in the role.  I am very proud of him.
 
Okay, now, back to another role of you in this play, as the actor. What did you think about your Frank Butler? Are there any characteristics of this role that you share? Did you have to spend much time preparing for this role? Do you feel hard when acting this role?

Frank Butler is a typical male chauvinist, especially for that period. He is the type that thinks men have to be better than women.  In that regard we are nothing alike because I think that is complete nonsense.  Women are just as smart and capable as men.  Here in Vietnam it is obvious that the women work much harder than the men.
 
Frank is also very stubborn and wants things to go his way.  In that regard we are exactly alike. He is also rather arrogant, and unfortunately I can be quite arrogant at times too.
 
I have done a lot of shows like this in the past so stepping into this role was not too difficult, however, balancing being director and actor was sometimes hard.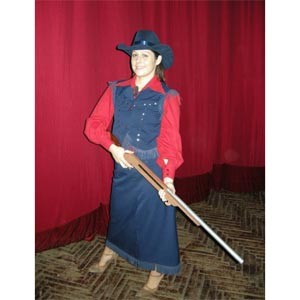 Kim Davis poses with a gun behind the curtain (Photo: Bee Shortland)

Well, moving on to the actress, your wife Annie Oakley, (laugh) I mean your wife in the play… So what did you think about this character? Did you think that Ms. Kim David performs the role well?



Annie Oakley was quite an interesting person in that she made a big name for herself in, what was at that time, a man's world.  She must have been a very strong woman. When I gave the role to Kim Davis I knew she would do a good job, but she has far exceeded my expectations.  I think she plays the role perfectly!
 
After scheduling five shows for this play, you have added one more show because "many audiences still want to see it". But if after the extra show the audiences are still asking for more -- will you fulfil their wish?

I think Sunday evening will be our final show. We would run into a lot of scheduling problems - with the theatre, orchestra, sound and light technicians, etc. - if we tried to add any more shows.  So unfortunately this will have to be the end for this show. But I hope that there will be many others in the future.


Annie Get Your Gun
, the first fully-staged and costumed Broadway musical in Vietnam, has discovered that there really is no business like show business. Five shows have already been performed, with an extra show scheduled for 7 p.m. on November 30.
Related article:

American Theater Classic to Be Performed in City