The Thua Thien-Hue Buddhist Church's Executive Board yesterday inaugurated the Lieu Quan Buddhist Cultural Center in the former imperial city of Hue.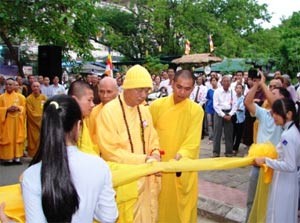 Many monks, nuns, local officials and Buddhists attended the opening ceremony held yesterday

Paintings by Buddhist followers Pham Dang Tri, Phan Xuan Sanh, Vinh Phoi and Nguyen Tu Trung are now on display at the center, which will serve as a venue to introduce Buddhist books, sutras and photos.

An exhibition showcasing 40 panorama photos capturing landscapes, people and outstanding pagodas across Viet Nam by photographers Nguyen Thinh and Ngo Thuy Hong opened in the city's Nguyen Dinh Chieu pedestrian street the same day.

Visitors to the show will have a chance to contemplate images of well-known Tay Phuong, Vinh Nghiem, Mot Cot, Thien Mu, Tu Dam Pagodas and photos of U Minh Ha forest, Ba Be Lake and Trang Tien bridge.

The exhibition will run until May 19.